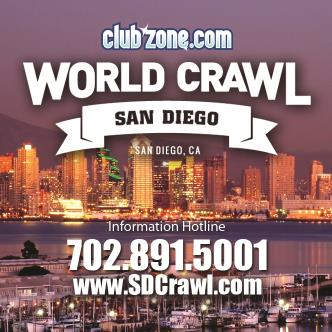 Venue:
When:
City:
Address:
2 Night Pass $119: $119.00
3 Night Pass $149: $149.00
Year Pass $199: $199.00
1 Night $79: $79.00
ClubZone.com presents
WORLD CRAWL – SAN DIEGO!

Las Vegas' Best Party has just landed in
San Diego & Pacific Beach. Jump on a Crawl today!
World Crawl San Diego
is the absolute Best way to party in the famous
Gaslamp Quarter!
Check us out on TripAdvisor.com under 'Las Vegas Club Crawl', our original operation in Sin City, and see why tens of thousands of past Crawlers had the 'Time of their Lives' on a Crawl!
Multiple nights a week, we safely move as a group, to 4-6 of San Diego's Gaslamp Quarter's most elite bars, clubs, super-clubs and after-hours. Your ticket to this Mobile Party includes some food or great food specials at the early spots, some drinks throughout the night, faster than VIP access to all the parties and all entry fees! Not to mention all the fun you will have meeting hundreds of other like-minded local and visiting partiers on the Crawl.
We have a full team of hosts whose sole purpose is to introduce you to the hundreds of other Crawlers on the tour. We often get the party started with 'Flip-Cup' tournaments, 'Beer-Pong' type challenges and a bunch of other Sociables that speed up the friend making process. It is the perfect way to conquer a new city, arrive solo and leave with an army of new friends. We do our vey best to make that happen, in an easy, safe and fun environment.

Check out what is part of the Top Party Tour in San Diego:

Schedule of 4 – 6 Bars, Clubs, Super-Clubs & often upgrades to After-Hours for the never-say-die folks
Entry Fees into the venues are included
Snacks – Often it's Appy style, at the first venue or special deals just for us for some of the best SD bars
Drinks – Cocktails, Shots and special Crawl deals and upgrades available at almost every venue
Social Games; Flip-Cup, Beer-Pong, the Clothespin Game and more – our squad of Hosts will get you started
Name-tags, Party Beads – all the supplies needed to break the ice and get things rolling
All the Transportation as needed - sometimes we jump in a Party Busses, because thats how we roll
A Squad of Hosts, sometimes up to 10 or more, dedicated to your safety, fun and comfort
Faster than VIP entry to All of the Venues, we roll right past the VIP lines
Hundreds of other Crawlers to meet!
HUGE DISCOUNT OFF YOUR NIGHT OUT!
Saturday Night's value is huge! Cover charges, drinks, skip the lines… times that by 5 spots! That's in the hundreds of dollars to do the same schedule on your own – without the new friends. Join the Crawl, do it all for cheaper with a hundred new friends! One ticket for all this in only $79
KICK – OFF : 6:30PM on most nights, Always check with us at ' www.SDCRAWL.com ' on the day of, to find out where your Crawl Starts!
*FOR MULTIPLE DAY TICKETS You must contact us at 702.891.5001 48hrs in advance to reserve the remainder of your Tours. If reservations are not made a minimum of 48hrs in advance we may not be able to accommodate your requests. No refunds will be given.
* The Crawl is a schedule of entry to a variety of venues. You participate at your own discretion. The Crawl does not own or operate any of the venues we visit or transportation we take. You are not bound to stay with the Crawl, you may go as you please however to recieve the benefits of the schedule you must be on schedule.
** The amount of venues, drinks and food or food specials included in the ticket are subject to change without notice and may vary slightly from what is described here based on the participating venues, day of the week and season of the year. If you are concerned about the specific amounts and details of what you are getting on your date please contact us directly to determine what is available on the tour you are booked. We do our very best to include the most value as possible to our guests. From time to time variables arise without notice from the participating venues which may affect what is included in the ticket.
Above & Beyond - We do More! Check this out:
For ticket holders, we are thrilled to extend our insider knowledge of Pacific Beach & San Diego to help you will all aspects of your trip, on your other nights! Take advantage of this by asking for
Guest-lists on other nights to other nightclubs – We can get you into them all! Yes – ALL
Bottle and Table reservations to any venue. Yes – ANY
Recommendations and reservations to shows, dinners, you name it!
Optional After-Hours or Gentlemen's Clubs

Once you are a ticket holder, you have access to everything we do! Let us be your personal concierge, your 'Guy in San Diego'. Grab your ticket now and give us a call!
Get Ahold of us:
www.SDCRAWL.com
Office: 702.891.5001
Check out our other cities

Las Vegas, Miami, Whistler and coming soon…. Atlantic City!

TERMS & CONDITIONS
*MULTIPLE DAY PASSES MUST RESERVE YOUR DATES WITH FLAVORUS AT 702.891.5001 48HRS IN ADVANCE TO GUARANTEE AVAILABILITY. NO REFUNDS IF EVENT IS SOLD OUT*

A CLUB CRAWL IS SOLEY AN ADMISSION PACKAGE TO INDEPENDANT VENUES. WORLD CRAWL DOES NOT OWN OR OPERATE ANY OF THE PARTICIPATING VENUES. PARTICIPATION ON THE CRAWL ONLY GAINS YOU ENTRY TO THE PARTICIPATING VENUES AS SCHEDULED. YOUR PARTICIPATION IN ACTIVITIES BEFORE, INSIDE OR AFTER THE PARTICIPATING VENUES IS COMPLETELY UP TO YOU.
1. NO REFUNDS. All Sales are final. No refunds will be granted once a ticket is purchased as events sell out. You are purchasing a limited 'seat' to an event. Ticket holders are required to understand the requirements to participate in the tour. No refunds will be granted for failing to meet these requirements before, during or after the event has commenced.
2. IDENTIFICATION. The legal age in California is TWENTY-ONE YEARS OLD. All attendees must be 21 years old to take part in all of the activities that the Crawl provides access to. It is the ticket holder's responsibility to produce proper acceptable U.S GOVERNMENT ISSUED IDENTIFICATION or INTERNATIONALLY RECOGNIZED IDENTIFICATIONS (Passport) at EACH LOCATION. The Crawl is not responsible for verifying identification, this is strictly up to each venue and is done so at their discretion. The Crawl is not responsible for ticket holders without proper identification, or ticket holders who are refused entry.
3. DRESS CODE. All guests must dress according to the standards set by each location. Each ticket holder is required to conform to these standards and the Crawl is not responsible for those who do not comply. These restrictions are, but not limited to NO HATS, DRESS SHOES FOR MEN, NO TANK TOPS OR T-SHIRTS FOR MEN, NO SHORTS FOR MEN (NICE JEANS ARE OFTEN ACCEPTABLE), NO BANDANA'S, NO SPORTS WEAR, NO FLIP FLOPS FOR MEN OR WOMEN, and any other limitation required by each venue. If you have a question please contact the venue itself, as the Crawl is not responsible if you are denied entry.
4. STAY WITH THE CRAWL. You must remain with the Crawl to receive the benefits of the Crawl at the participating venues (drink tickets, free food or food specials, expedited and free entry, and other).
5. YOUR CONDUCT. Each venue allows you entry based on their policies and is the same if you were visiting them outside of the tour. You are responsible for your conduct. If you are denied entry due to intoxication, rowdy or lewd behaviour, or other, the Crawl is not responsible.
*PLEASE NOTE – The starting location, food options, drinks provided and time for each tour, although very unlikely, may change based on the participating venues. Please check with us at VegasCrawl.com/where-we-go/ on the day of your Crawl, to determine where your Crawl will kick-off.
Last Updated on