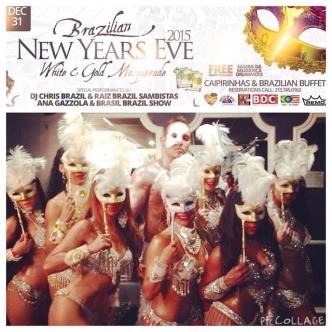 FOR ALL YOU CAN EAT BRAZILIAN BUFFET: $75.00
GENERAL ADMISSION: $45.00
RESERVED TABLE SEAT: $65.00
VIP BOTTLE SERVICE: $110.00
Brazilian Nites Productions and Conga Room presents
WHITE & GOLD MASQUERADE BRAZILIAN
NEW YEAR'S EVE PARTY!
AT
THE CONGA ROOM / LA LIVE
Kick off the New Year Brazilian style!
Party favors, Food, Music and Dancing!

Featuring
"ANA GAZZOLA & BRASIL BRAZIL SHOW"

Authentic Samba! Beats that will keep you off your feet!
Samba Dancers headed by Stunning "Sambista" Jonia and her Raiz Brazil company! Batucada by the Samba da Mudana Drummers!
DJ Chris Brazil
PREFERRED ATTIRE: WHITE color of peace and hope (a Brazilian tradition) with Gold or Silver Masks!
Join us for a pulse-pounding night of samba celebration leading up to a toast at midnight, party favors and electrifying sambistas!
Bring your dancing shoes! The dance floor will be open!
WHEN: Wednesday , December 31, 2014. 9:00 p.m. 2:00 a.m.
WHERE: Conga Room, 800 W. Olympic Blvd., Los Angeles, CA 90015
WHAT: White & Gold Masquerade New Years Eve Celebration Brazilian Style!
TICKETS:
$45 General Admission/ $65 Reserved Table Seat / Bottle Service VIP $110 per person / Over 21 only.
Dinner All you can eat Brazilian Buffet (optional does not include admission): $75

ENTERTAINMENT: Ana Gazzola & Brazil-Brasil Show presents a pot-pourri of Brazilian songs, including Samba, Frevo, Axe, MPB. Music and rhythms that make you move! Raiz Brazil Samba Dancers headed byJonia, pulsating batucada by Samba da Mudana Drummers and DJ Chris Brazil playing a variety of Brazilian, Latin and top 40 beats.

All you can eat Authentic Brazilian Buffet includes: Churrasco (Beef, chicken and sausage), Green palmito salad, black beans, garlic rice, collard greens, potato salad, farofa (yucca flour), fried plantains, vinaigrette, pao de queijo (cheese bread) and Mousse de Maracuja (Passion Fruit mousse). Served from 8pm to 9:45pm.

Brazilian New Year is one of the most traditionally celebrated festival for the people living there. New Year in Brazil is known as Ano Novo(Portuguese) but is more popularly known as Reveillon. People dressed in white offer flowers and gifts to the Iemanj, the Goddess of the Water in the Brazilian Umbanda religion. The colorful floating candles gives a splendid view at the time of New Year. This festival is celebrated with much devotion and sincerity by the fishermen of the city. They believe the catch at the time reflects the catch for rest of the year.

Partygoers who attend the New Years Eve party will be dancing non-stop to the pulsating rhythms of SAMBA, MARCHA, AX MUSIC, SAMBA-REGGAE, FORR, PAGODE, FREVO and CARNAVAL ELECTRICO.
Last Updated on