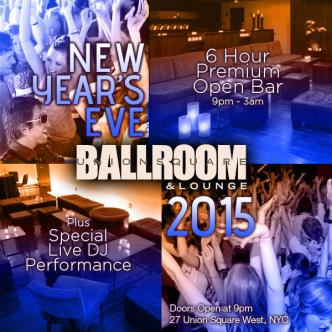 Union Square Ballroom
New York
27 Union Square West
General Admission: $119.00
Platinum VIP: $199.00
Ultra VIP: $149.00
Union Square Ballroom
New York's Most Exclusive, VIP Event Space and Lounge
6 Hour Premium Open Bar 9pm – 3am
Wednesday, December 31st, 20149PM – 3AM
If youve never experienced a New York City ballroom and lounge party, then youre in for a treat this New Years Eve at Union Square Ballrooms mega-hot, mega-watt NYE bash. With state of the art sound and a crowd that dances till they drop, Union Square Ballroom is the most explosive place to be this New Years Eve.
Union Square Ballroom is a nightlife destination known and loved by the New York City in-crowd, and this New Years Eve, youre invited to join in on the exclusive fun. Down your favorite drinks at the seemingly endless six hour premium open bar. Nibble on some delicious early evening lite far, compliments of Union Square Ballroom. This amazing event space, after all, so get out on the floor and dance as the live DJ mixes your favorite Top 40, Hip Hop and Dance hits all evening long. The goodies just keep on comingUnion Square Ballroom will give each guest festive party favors, on the house. Spirits will be sky-high by the time midnight approaches and the DJ gets the crowd amped up for the boisterous live countdown complete with a glass of complimentary champagne. Take in all the New Years Eve magic when you watch the Times Square Ball Drop on Union Square Ballrooms giant flat screens. Treat yourself to a little VIP goodness this New Years Eve and indulge in one of Union Square Ballrooms delightful VIP Packages that include Table and Bottle Service and reserved VIP seating.
Celebrate New Years Eve at what New Yorkers consider to be the ultimate VIP Event Space and Lounge. The ballroom itself is an expansive 2,500 square feet with lofty ceilings, wooden floors and lights all around. But theres more: in the more exclusive private lounge, party guests can use the lounge as a more intimate space to take their party. With an abundance of leather couches, plush chairs and warm lighting, Union Square Ballroom is the sleekest event space on the block. This venue has hosted celebrities such as Sarah Jessica Parker, Robert De Niro, Heidi Klum, Uma Thurman, Bradley Cooper, and Mary Kate Olsen at a number of impressive events and VIP parties.
If you want to know what its like to party like a celebrity this New Years Eve, then you have to check out the NYE scene at Union Square Ballroom. Youll feel like youre dancing with the stars this New Years Eve at Union Square BallroomNew Yorks most happening ballroom and lounge hotspot.
Last Updated on