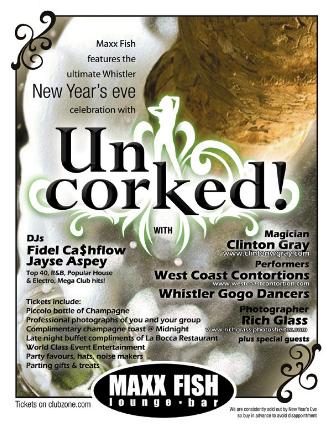 Venue:
When:
City:
Address:
Tue Dec 31 2013 900PM
Whistler
Whistler Village Square
Regular: $105.00
UNCORKED! New Year's Eve 2014
Maxx Fish Lounge & Bar presents the very best Whistler New Year's Eve event each and every year!
Featuring:
* Personal bottle of champagne on arrival (sml – piccolo size)
* Complimentary champagne toast at midnight
* After midnight buffet courtesy of sister restaurant La Bocca
* Professional photographer Rich Glass on site to print photos of you and your group – and email them to you after the event as well!
* Westcoast Contortions (www.westcoastcontortion.com)
* Magician Clinton W Gray (www.clintonwgray.com)
* Special surprise guests!
* Party favours, hats, noise makers, etc…
* Open until 3 AM
* Complimentary parting gifts and treats
We pride ourselves in providing the very best value in Whistler New Year's Eve Entertainment! Tickets can be purchased online here.
See you in 2014!!
Last Updated on