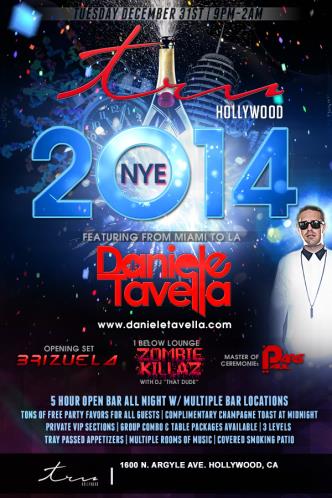 Venue:
When:
City:
Address:
MAIN ROOM – GOLD PACKAGE: $1000.00
MAIN ROOM – PLATINUM PACKAGE: $1500.00
MAIN ROOM – DIAMOND PACKAGE: $2000.00
VIP ROOM – COUPLE'S VIP TABLE: $500.00
VIP ROOM – DELUXE VIP TABLE: $1000.00
5 VIP OPEN BAR/FOOD TILL 12AM COMBO PACKAGE: $400.00
*FINAL BATCH* VIP OPEN BAR & FOOD ALL NIGHT: $1010.00
VIP OPEN BAR & FOOD TILL MIDNIGHT: $90.00
GENERAL ADMISSION: $70.00
TRU HOLLYWOOD
presents
NEW YEAR'S EVE 2014
Don't miss out on the BIGGEST party of the year at one of Hollywood's most EXCLUSIVE nightlife venues.
TRU HOLLYWOOD NEW YEARS EVE FEATURES:
- 5 HOUR VIP OPEN BAR ALL NIGHT -
- 2 LEVELS OF MUSIC FEATURING LA'S TOP DJs PLAYING THE BEST HIP HOP, MASH UPS,HOUSE & TOP 40 ALL NIGHT LONG
- MULTIPLE BARS W/ INCREDIBLY SKILLED BAR STAFF
- VIP TABLES & BOTTLE PACKAGES
- TRAY PASSED APPETIZERS FOR OPEN BAR TICKET HOLDERS
- UPSCALE CROWD
- AMAZING SPECIAL EFFECTS, SOUND, & LIGHTING
- UPSTAIRS SMOKING PATIO
————- ABOUT TRU HOLLYWOOD ————-
CHECK OUT TRU HOLLYWOOD PRESS & NEWS
Tru Hollywood Supper Club has revived the unique aura and sophistication of old Hollywood. Located at historic 1600 Argyle, the illustrious building has already hosted Hollywoods most glamorous stars and legendary musicians. Now,Tru Hollywood draws Tinseltowns newest sophisticates. Enter the club through the grand foyer glistening with quartz wallpaper and you will be transported toa bygone era of hidden Hollywood opulence. Culinary offerings add to the venues allure with a superb menu prepared with the creations of an award-winning chef. Tru Hollywood boasts three levels of stunning elegance.Trus great room features sparkling diamond walls. Over long, gleaming ebony bars, a veil of crystals rains down from the ceiling and a framed mirror box reveals the seductive silhouette of a dancer. Among lavish furnishings and retro-chic dcor, a DJ booth ignites the dance floor and sets the mood for a nights sensuous adventure. A VIP retreat filled with plush couches and silvery cocktail tables is elevated just enough to promise an all-encompassing view of the venues energy.
Last Updated on