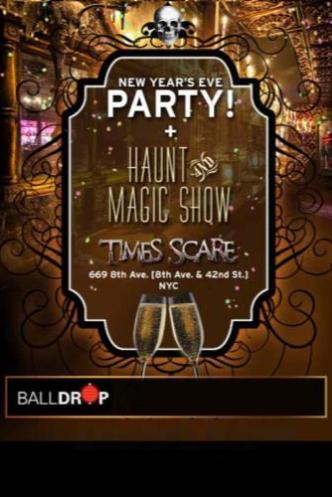 Venue:
When:
City:
Address:
Times Scare
Tue Dec 31 2013 1200AM
New York
669 8th Avenue
General Admission (Under 21): $85.00
General Admission (Over 21): $95.00
HIGHLIGHTS
- NYCs only full year Haunted Attraction
- FREE Drinks included with your ticket
- FREE Appetizers food included with your ticket
- LIVE DJ Spinning all night
- Multiple rooms for different NYE experiences
OVERVIEW

Located 1 block West of the Times Square Ball Drop, this massive, multi-room space is one you won't want to miss. With free drinks and food included with your ticket, there will be no shortage of excitement. Purchase your tickets and secure an evening of fun and originality. Try this unique, one of a kind NYE experience.
Times Scare NYC is a 25,000+ sq ft event space, decorated in medival chic motiff, boasting scary gouls and gobblins, guaranteeing to make you tremble as you sip your cocktail and dance your night through midnight. Low lighting and fluorescent ambiance help to create the scary, fun, and exciting atmosphere this NYC Attraction is looking to provide.