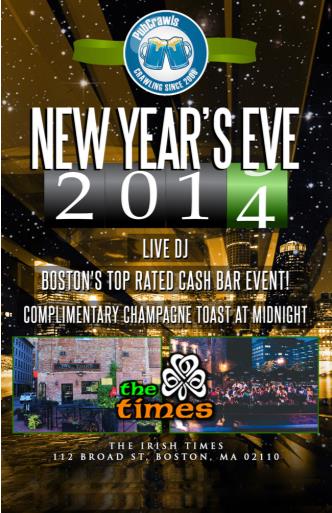 Venue:
When:
City:
Address:
Tue Dec 31 2013 800PM
Boston
112 Broad St.
General Admission: $100.00
Boston has its share of lively festivities throughout the year; Red Sox baseball games, Bruins hockey games, and of course the crazy bar scene in the city just about every weekend. While all of this may be true, there is one holiday in the year that brings out friends, family and sports fans alike, New Year's Eve! For the ringing in of 2014, The Times Irish is hosting a New Year's Eve cash bar event that can easily be labeled one of the top NYE events in Boston. It's a time to rejoice next to close friends and the one's that truly care about you. Enjoy the best drinks in town at competitive prices.
Located at 112 Broad St, The Times Irish encompasses a party atmosphere that caters to everyone. All patrons will receive a complimentary champagne toast while the countdown begins and we all try to find that special someone next to us. In those final 10 seconds which we countdown the year that's about pass, we reminisce about the good and the bad. We then welcome in 2014 with the highest form of optimism, hoping that the next 365 days will be as good as our final day of the preceding year. Make December 31, 2013 a night to remember at The Times Irish!
Last Updated on