If you are in San Francisco this new Year's Eve, make sure you check out the Champagne Resolutions NYE at Hyatt Regency San Francisco.
Presented by SF Nightlife, The lavish Hyatt Regency San Francisco in Embarcadero Center provides the perfect environment to welcome you in for a night of splendor and excitement and  "You are officially invited to the 2nd Annual Champagne Resolutions NYE 2014″ At Hyatt Regency San Francisco in Embarcadero Center.This New Year's Eve event will be the gathering place for those that have come to appreciate elegance, opulence and a sizzling hot party to ring in the New Year.2nd Annual Champagne Resolutions NYE 2014inside beautiful Hyatt Regency San Francisco has risen to the occasion of being the party destination for the fierce and the fabulous yearning for that quality Nightlife feeling that can be so hard to find. Experience the highest standard in the impressive, and newly renovated ballroom that boasts a sleek award winning design accented with split level ceilings and accessorized with the most luxurious elegance.Let it all go to the pulsating beats spun by a rotation of one of the San Francisco DJs on a world-class sound system synced with incredible state of the art lighting that will easily pull you onto the dance floor!Be one of the many privileged guests at Champagne Resolutions NYE 2014 and indulge in the VIP Premium bar treatment from 9:30pm to 1:30am. Your New Years Eve plans have been officially set! So get ready for a celebration of sheer Nightlife indulgence at its absolute finest.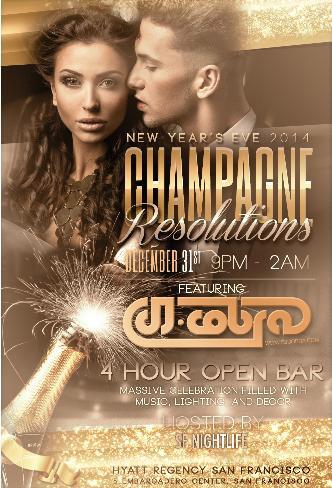 Venue:Hyatt Regency San Francisco Embarcadero
When: Tue Dec 31 2013 900PM
City:
San Francisco
Address:5 Embarcadero Center
Golden Ticket Tier 1: $100.00
Golden Ticket Tier 2: $115.00
Couples Ticket: $185.00
Platinum VIP Ticket: $150.00
Platinum King Package: $669.00
Double Gold Package: $769.00
Add On Room: $399.00
6 Person Table Package: $1300.00
10 Person Table Package: $1800.00
Entourage Of Five: $475.00
Featuring:
DJ COBRA // DJ TWIN SPIN // DJ INTENSIFY
·       4 Hour Open Bar
·       Massive Celebration filled with music, lighting, and décor
·       Newly Renovated Luxurious Ballroom
·       State of Art Light and Sound Production
·       San Francisco Top DJs
·       Multiple Professionally Staffed Bars
·       VIP Tables with Premium Bottle Service
·       Complimentary Champagne Toast at Midnight
·       Balloon Drop & Confetti Blast
·       1 Amazing Countdown
Exclusive VIP Lounge:
·       4 Hour Premium Open Bar
·       Private Dance Floor
·       Open Lounge Seating
·       New York Style Party Favors
·       Private Bar
·       Full Access to the Entire Event
Dress attire: Black Tie preferred but not required
Don't Drink & Drive. Settle into one of the luxurious rooms and take the Elevator Home.
For more info please call 415 573 0740
::| All Sales are final. No refunds or exchanges. You must be 21+ to attend. Prices are subject to change while supplies last |::