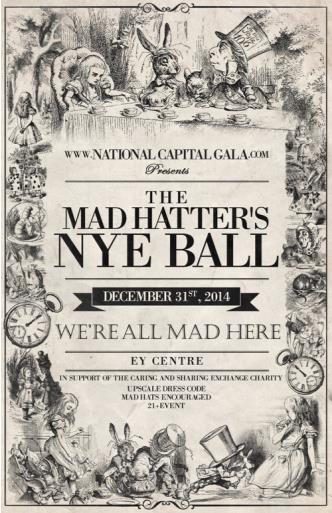 EY CENTRE
Ottawa
4899 Uplands Drive
Queen of Hearts Package: $1350.00
Regular GENERAL ADMISSION Tickets: $85.00
Regular VIP Tickets: $100.00
The Four Top Package: $600.00
The White Rabbit Package: $1000.00
Tumble down the rabbit hole to 2015 at the Mad Hatter's New Year's Ball! This whimsical evening will feature over the top entertainment, a lavish VIP tea party and a party fit for the Queen of hearts all held in a specially-designed wonderland setting brought to you by Ottawas best party planners.
The VIP cocktail tea party features the musical stylings of a local piano bar favourite with gourmet cocktail food catered by ACE MErcado (rated one of Canada's top new restaurants), and a specialty cocktail booth hosted by RSVP Events. Rub elbows with local celebrities as the VIP cocktail tea party transforms into a Mad New Year's Eve spectacle with entertainment and action everywhere you look! The Mad Hatter New Years Ball is delighted to feature acrobatic performances by world champion cyr wheel artist- Paul Perreault and an aerial performance by Les Oiseaux de Paradis, tailored performances by the dancers for the Ottawa Senators and the CFL, appearances by the Mad Hatter, Brazilian dancers, Burlesque artists, a dance your socks off set by our featured band, Torontos BKM Krew. After midnight, DJ Paul Burke will make you dance into the New Year, alongside our mad electric violinist!
Late night eats will be available from Zanadu and Slice&Co.. The Ernst and Young Center will be completely transformed into a magical wonderland by Kayla Pongrac Design(Architect), with featured design elements brought in from Montreals Luxe Rentals.
Not only will The Mad Hatters New Years Ball be the most exciting New Years ticket in town, but will also support a local charity, the Caring and Sharing Exchange which has been providing Christmas and back-to-school assistance to Ottawa residents who face economic hardship, regardless of age, ethnicity, creed or culture since 1915.
Tickets are 80% sold out — Do not be too late for this very important date!

This 21+ affair requires upscale party attire, with mad hats encouraged.
The Ernst and Yong Centre will open at 8 PM for VIP admission, and 10 PM for General Admission.
Parking & Transportation Info:
Free overnight parking is available at the EY Centre for guests of the Mad Hatters New Years Ball.
Luxury Coaches will be going to and from the corner of Dalhousie and York Street (on the same side as Pub 101) to the EY Centre every half hour, beginning at 8 PM ($10 contribution in cash when you get on board). Last bus departs the EY centre at 2:30 AM.
The OC Transpo #97 shuttles you to the EY Centre every 30 minutes, and is free after 8 pm on NYE.
Taxi service will also be available onsite.
Ticket Information
MAD HATTERS VIP ADMISSION $95.00 + tax
THE HATTERS VIP HIGH TEA INCLUDES THE FOLLOWING:
VIP Entrance all night (Beat the line)
Exclusive Access to the Mad Hatters VIP High Tea Party from 8-10PM
VIP food stations and hors-doeuvres
VIP Gift Bag Including a $50 gift certificate from Fernadinos, specialty NYE Party Favours
2 drink tickets
Free Overnight Parking
Complimentary Coat Check
Champagne Toast
GENERAL ADMISSION TICKETS – $80.00 + tax
GENERAL ADMISSION TICKETS INCLUDE THE FOLLOWING:
Admission at 10 PM
Champagne Toast
Complimentary Coat Check
Free Overnight Parking
Queen of Hearts Package $1350
8 VIP Tickets, 1 Magnum of Grey Goose, 1 26oz Bottle of Grey Goose, 2 Bottles of Sparkling Wine (18% Gratuity Included)
The White Rabbit Package $1000
6 VIP Tickets, 2 26oz Bottles of Grey Goose, 2 Bottles of Sparkling Wine (18% Gratuity Included)
The Four Top Package $600
4 VIP Tickets, 1 26oz Bottle of Grey Goose, 1 Bottle of Sparkling Wine (18% Gratuity Included)
Last Updated on