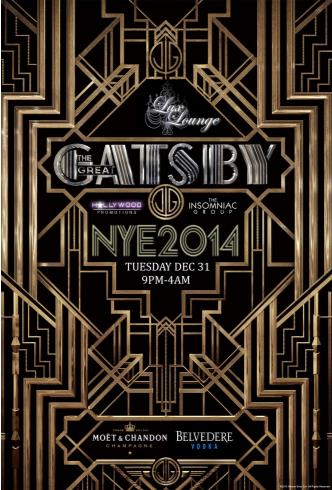 Venue:
When:
City:
Address:
Regular: $80.00
Bronze(6tix, seating for 4, 1 champagne Bottle: $730.00
Bronze + (8tix,2btls of Moet): $1140.00
—————-The Great Gatsby New Years Party——————–
Presented by Champagne Moet & Belvedere Vodka

The 1st original Great Gatsby NYE Gala in Vancouver
http://www.ticketzone.com/wafform.aspx?_act=eventtickets&_pky=205822
Hosted by Insomniac Group & Hollywood Promotions
..OUR BIGGEST THEMED PARTY YET, the GREAT GATSBY PARTY! We are going all out
During the time of Prohibition, the Speakeasy was born and all levels of society began to party behind closed doors. Join us as we take you back to the Roaring 20′s and re-create the feeling of days gone by.This event will feature beautiful Art decor, specialty cocktails, music, dancing and a few surprises. Feel free to dress in theme for this event as costumes are encouraged (but not required).
at the Lux Lounge (1180 Howe St)
Lux Lounge features oversized ornate skylights, crystal chandeliers, as well as a fireplace to create an intimate and enjoyable experience. This is not to be outdone by our outstanding outdoors experience; fountains & two covered patios; flooded with sunlight during the day & kept cosy & warm with heaters at night. Our enchanting grass courtyard is the perfect oasis in the middle of downtown Vancouver.
Great Gatsby 2014 Talent Line up:
**Mandy Ross (Our Host for the evening)
http://mandy-ross.com/
**Beautiful Suzka More on Violin
http://www.youtube.com/watch?v=N_jZfD8mO4w&feature=youtu.be
Mike Van Eyes on Piano
http://www.youtube.com/watch?v=KtB_mwwPJpc
Buddah on Sax
& Farshad on Percussion
**Glamorous Zynth & Co Gatsby Dancers along Johnny omega & Reign on turn tables
Sponsored by Moet & Belvedere
TV HOST & PRODUCER MANDY ROSS:
Mandy Ross is a TV Host, Reporter, Producer, Model, Actor, Spokes Person, Motivational Speaker, MC, Humanitarian & Blesd Angel.
You may have seen her as Host/Reporter of Fashion TV (official licensee Press Play Est.). She was chosen to be the exclusive North American Host for the world recognized and respected show, with 500 million viewers worldwide. She was also Host for VTV that broadcasted on 6 networks.
You may have seen Mandy on Van Fashion Week TV, Shaw TV & SMC as Host/Producer of the A&E series, TNG, and as on-air talent at Novus TV & MTV Canada.
Some event coverage/interviews include: TIFF, VIFF, the Leo Awards, Olivia Wilde, Paul Haggis, Kim Cattrall, and Woody Harrelson.
When shes not covering Hollywood Norths entertainment scene, this fitness and nature lover can be found having fun in the sun: on a beach, in the water or on a mountain. Her family and friends "mean the world to her," and she loves volunteering.
Mandy's love affair with performing started early on. She fondly remembers acting, imitating her favourite TV and film stars for her loved ones and running around with a PlaySkool tape recorder to interview her friends. As fate would have it, those experiences were only the beginning to Mandy's mark in the entertainment world. To follow this social butterfly: @MandyJRoss.
www.mandy-ross.com
-VANCITY'S TOP DJS
-1920′S DECOR
-LIVE MUSIC
-SAXOPHONE
- CANAPES & HORDERVES
-AND MORE
GATSBY THEME ATTIRE (Highly suggested, but NOT required)
Gentlemen
- Fedoras, Straw boater hats, 'formal head-wear'
- Dress shirts, polos, blazers, button ups
- Ties, bow ties
- Vests, suspenders
- Khakis, black pants, oxfords, boat shoes
Ladies (Flapper)
- Red lipstick, Pearl necklaces/bracelets, gold necklaces
- Beads, feathers, flowers headbands
- Corsets, skirts, dresses
Minimum REQUIRED dress code is SEMI-FORMAL.
The 1st original Great Gatsby NYE Gala in Vancouver
Tickets :
http://www.ticketzone.com/wafform.aspx?_act=eventtickets&_pky=205822
Tickets on location
Lux Lounge ( 1180 Howe st)
88 beauty Salon ( 88 Smithe st)
Or Direct call 604-724-8739 ….. 604-767-3911
Bronze Table: ($730)
6 tickets to the Great Gatsby NYE
Seating area provide for 4 people
1 Bottle of Moet
Private Server
Party favors
Complimentary coat check
Silver Table: ($1600)
8 tickets to the Great Gatsby NYE
Seating area provided for 6 people
2 Bottles of Belvedere + 1 bottle of Moet
Private server
Party favors
Complimentary coat check
Gold Table: ($5000)
20 tickets to the Great Gatsby NYE
Seating area provided for 20 people overlooking the dance floor
4 bottles of Belvedere +3 bottles of Moet
Canap and appetizers
Private server and security
Great Gatsby dancers
Fire place
Party favors
Complimentary Coat check
Last Updated on