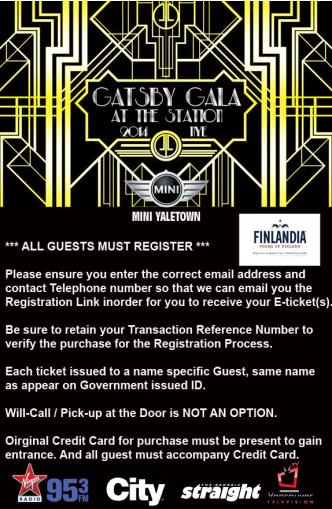 Venue:
When:
City:
Address:
Tue Dec 31 2013 800PM
Vancouver
1755 Cottrell Street
VIP Table ( $1,200.00 +GST ) & No Line-Up *** 2 Tables Left: $1260.00
Last 50 tickets LEFT -Gatsby Gala Ticket – Age21+: $100.00
AGE REQUIREMENT: 21+ ALL GUESTS MUST REGISTER.
Please ensure you enter the correct email address and contact telephone number when purchasing ticket(s) so that we can send you a Registration Link which will be available November 29. Upon registrationyou will receive your E-ticket(s).
Be sure to retain your Transaction Reference Number to verify the purchase for the registration process.
Each ticket issued to a name specific Guest. Will-Call / Pick up at the Door is NOT AN OPTION.
**************************************************************************************************
THE 2014NEW YEAR GATSBY GALA AT THE STATION
This New Years Eve, hop on the 'MidnightExpress' and travel back in time to thevibrant galas of the Roaring 20s. A decade of excitement, decadence andexcess, where anything and everything is possible.
BrassFan Entertainment ( the producers of the Marriott Ice Palace, the MidnightStardust ) cordially invites you to come experience the Gatsby of all galas.See the Roaring 20s as Gatsby would have envisioned it, during a time ofadventure, prosperity and opulence.
The Rocky Mountaineer Station, with its 34feet vaulted ceilings and full-length glass wall, is the perfect venue for a trueGatsby experience:
Be entertained by the glitz and glamour of our 1920sShow Girls.
Dance the evening away with over 1,100 attendees asour Conductor DJs and live band "TenSouljers" play Top 40s and Dance Classics.
Have your taste buds elated with our extravagantDeluxe Dessert Buffet complete with a convoy of Belgium Chocolate Fountains.
Rendezvous with old friends and meet newacquaintances at our numerous cocktail bars and champagne stations.
Capture the moment with our themed photo booths, theperfect memento.
And at the stroke of midnight, ignite 2014 withindoor pyrotechnics, fireworks, and much more.
This New Years Eve,experience Gatsby as it should be.
************************************************************
In celebration of our 10th anniversary of hosting New Years Gala, we will have special promotions, drink specials and ticket give-aways.
************************************************************
ENTERTAINMENT -
Music Style – " Top 40s, Hip-Hop,R&B and Dance Classics "
Locomotive Disc Jockeys – DJ KENYA
- DJ HUNT
- DJ DIZZIE D
TEN SOULJERS – Canada's #1 Event Band
EVENT HIGHLIGHTS INCLUDE -
Gatsby's Countdown ( indoor pyrotechnics, fireworks, and much more… )
Photo Booth
1920s Show Girls
Live-Band – The Ten Souljers
Midnight Express – FREE Charter Shuttle Services to & from Skytrain & Partnering Hotels
Parking Lot – 120 Parking Spots(Overnight Parking)
Hotel Accommodations ( Four Seasons, Hotel Georgian Court, Sandman Hotel )
COMPLIMENTARY -
Deluxe Dessert Buffet (8PM – 11PM)
Premium Roaring 20s Party Favors
Champagne at Midnight
Midnight Express – FREE Charter Shuttle Services to & from Skytrain & Partnering Hotels
Photo Booth & Event Photography
************************************************************
WHEN -
Tuesday, December 31st, 2013
General Gala Hours – 8PM – 2:30AM
Deluxe Dessert Buffet – 8PM – 11PM
Midnight Express – Skytrain & Partnering Hotels > Gatsby Gala (8PM – 11:30PM)
GatsbyGala > Skytrain & Partnering Hotels (12:30AM – 2:30AM)
WHERE -
Rocky Mountaineer Station
1755 Cottrell Street- Vancouver, BC
(Behind Home Depot near Terminal Station)
WHO -
Professionals
( Age 21 and above )
ATTIRE –
Cocktail Attire / Semi-Formal
Roaring 20s theme attire optional
Ladies – Cocktail dresses, Dress Pants and Evening Gowns
Gents - Suits, Tuxedos, Dress Pants and Dress Shirts
ABSOLUTELY NO: Jeans, runners,T-shirts, athletic apparel
Last Updated on