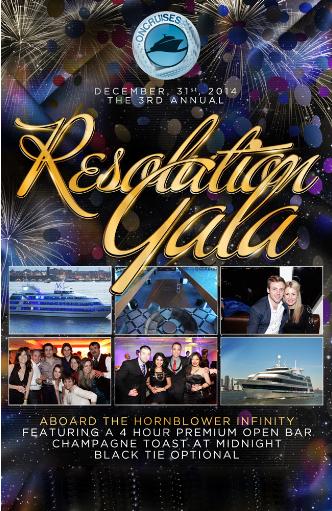 Venue:
When:
City:
Address:
Hornblower Infinity Yacht
New York
Pier 40 – 353 West St
Important:

The 3rd Annual New York Resolution Gala Aboard the Infinity Yacht
Can you think of a better place to spend New Year's Eve than New York City? On this special day thousands of people flock to the city from around the world to be a part of the many attractions in Manhattan. While upper-echelon nightclubs, exclusive hotel lounges, and top-notch rooftops are filled with dancing bodies for the last day of the year, perhaps the most popular area of all is Times Square – the location of the famous ball drop. But there's one characteristic that each one of those attractions shares that's not so enticing – the crowds. This upcoming New Year's Eve in New York City, opt for a memorable experience aboard what's considered the most popular yacht off of Manhattan's coast – the Infinity Yacht. We're sure you heard about last year's event, and if you weren't lucky enough to get access to it here's your chance.
This magnificent ship is a phenomenon of the seas and known around New York City as a sign of elegance and sophistication. It's not everyday that you get a 210-foot yacht that welcomes up to 1,000 of the city's elite to come aboard and enjoy the regal amenities on hand. At first glance, what gets ones attention are the multiple levels – three climate-controlled decks that feature custom LED lighting, state-of-the-art sound systems with flat screen monitors, and dance floors for the music at hand. The lucky guests aboard this gorgeous vessel will have the great opportunity to access four hours of premium open bar, a special champagne toast at midnight, and delicious passed hors d'oeuvres aboard this black-tie optional event. There will be mouth-watering cuisine provided at various buffet stations, ensuring that your New Year's Eve appetite is satisfied.
One of New York City's most prominent DJs will be on hand delivering sounds throughout the voyage. While you'd think that things couldn't get any better, you'll have the best vantage point of the popular and highly sought after New Year's Eve fireworks display high above the city. There's no denying that this will be a premiere attraction on the biggest day of the year in New York City. Here's your chance to be a part of it, so get your tickets while you still can!
Boarding: 8pm
Departing: 9pm
Returning: 1am
Buffet Menu:
STEWARD PASSED HORS D'OUEVRES:
Chef's Selection
ANTIPASTI Platters at each tables:
Mescaline Mixed Salad with olive oil drizzle and roasted vegetable, surrounded by sliced meats, cheeses and olives.
Served with a basket of bread.
Entree's:
Roasted Rosemary Garlic Chicken
Horseradish Crusted Atlantic Salmon
Roasted Root Vegetables
Roasted Red Bliss Potatoes
CARVING STATION:
Beef Tenderloin
Pork Loin
SWEET STATION:
Platters of Mini pastries, brownies and cookies
Welcome to New York's Resolution Gala aboard the Infinity Yacht. All guests will receive the following amenities:
4 Hours of Premium Open Bar (8:30pm-12:30am)
Steward Passed Hors doeurves
Buffet Stations
Champagne Toast at Midnight
Festive NYE Party Favors
Dance the Night Away to Sounds of a Live World Renowned DJ
Watch a LIVE feed of the New Years Eve Ball Drop in Times Square on Plasma TV Screens throughout the vessel
Access to the Prime (Deck 1), Main (Deck 2), and Sky Deck (Deck 4)
This is a Standing Room Only Ticket.
***TICKET PICK-UP INSTRUCTIONS***
YOU MUST PICK UP YOUR TICKETS PRIOR TO THE EVENT.
Please bring your print-out confirmation, credit card used to purchase ticket(s), and a government issued ID to pick up your tickets at our box office located at:
WeSell Box Office
138 West 31st Street,
Between 6th & 7th Ave,
New York NY 10001
Sunday, Dec 28th – [9:30am-7:00pm]
Monday, Dec 29th – [9:30am -7:00pm]
Tuesday, Dec 30th – [9:30am-9:00pm]
Wednesday, Dec 31st – [8:30am-2:00pm]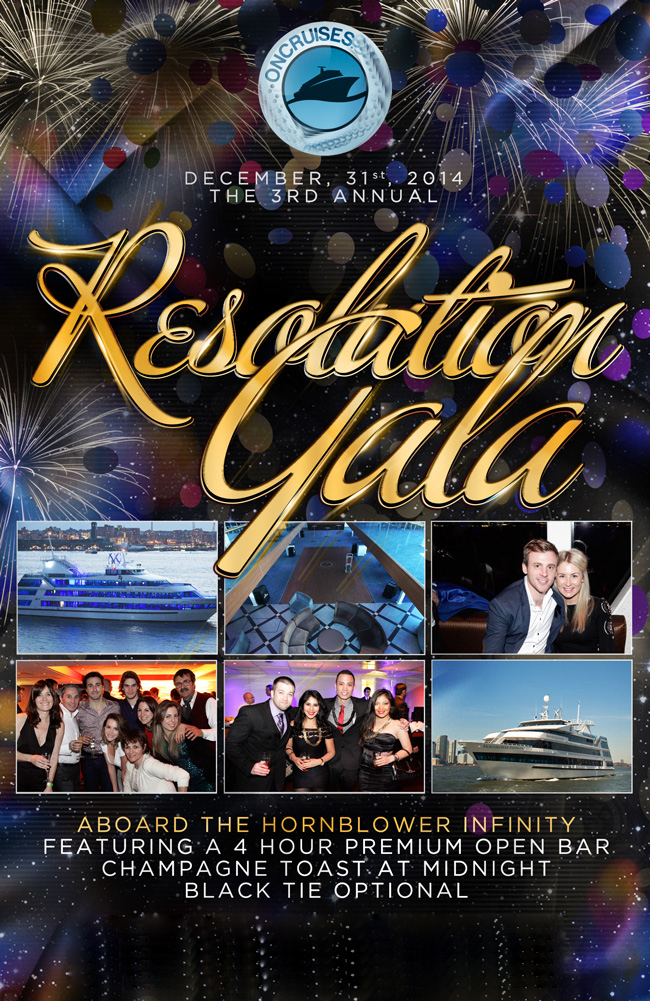 Last Updated on