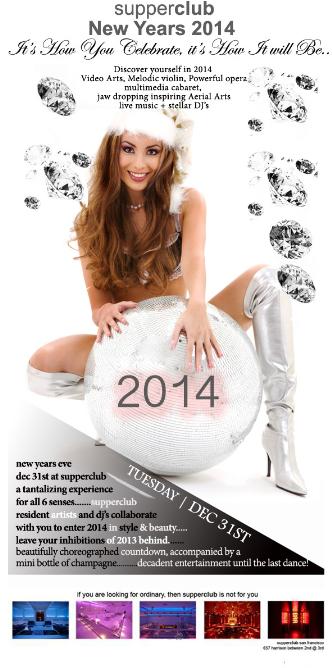 Venue:
When:
City:
Address:
NYE Tix: $55.00
NEW YEARS EVE 2014
supperclub is known for its super-chic and dare-to-be-different style with intent on titillating all five senses of its sophisticated clientele.
NYE 2014 will feature a multitude of over-the-top cadres of performances, freaks, and fantasy in an entirely new format, pushing boundaries like never before. 10 resident artists will entertain attendees with risque dance moves, soaring song and tricks of the mind.
The soaring, completely white space is particularly exciting when DJs, VJs, and performance artists use the striking white background as their own personal playground..
supperclub was featuring on Travel Channel, Most Extreme and Fun Restaurants / Clubs in 2011.
Midnight Aerialist Performance!
Beautiful, Fun, Artistic and Gorgeous Crowd!
NYE COUNTDOWN
10PM – 230AM
Eight DJ's in Two Rooms
Music style:
House,Electro, Deep, Progressive, Top 40
&
FREE CHAMPAGNE AT MIDNIGHT
Last Updated on