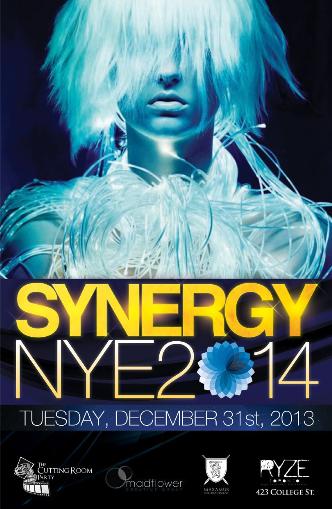 Venue:
When:
City:
Address:
Tue Dec 31 2013 1000PM
Toronto
423 College St. W.
Early Bird: $30.00
The wait is over…and the rumours are true!
On Tuesday, December 31st,
Madflower Creative Group, Maxamus Entertainment & The Cutting Room
are joining forces to bring Toronto one of the most spectacular NYE events
ever to hit our city, in one of the hottest new venues… RYZE!!
We are proud to bring to you…SYNERGY NYE2014
synergy [sin-er-jee] Show IPA
noun, plural synergies.
1. the interaction of elements that when combined produce a total effect that is greater than the sum of the individual elements,
Doors open at 9:30pm
RYZE Nightclub – 423 College Street (@ Bathurst)
Hosted by Director X
(MTV Award winner, and director of chart topping videos including
"Started from the Bottom" and "HYFR" by our very own Drake)
With sounds provided by:
Flow 93.5 FM, DJ P-PLUS & SPECIAL K
** SPECIAL GUEST DJ TO BE ANNOUNCED SOON **
Looking forward to celebrate 2013 with a BANG and welcome in 2014 with an even BIGGER BANG! 1Love
Last Updated on