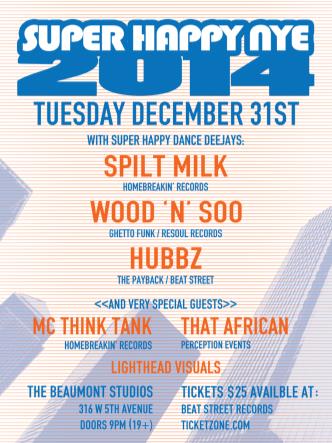 Venue:
When:
City:
Address:
Tue Dec 31 2013 900PM
Vancouver
316 West 5th Ave Vancouver
Door Price: $35.00
Once again the SUPER HAPPY DANCE DEEJAYS return for another end-of-year celebration at The Beaumont Studios!

FB Event: https://www.facebook.com/events/215323338647271/

WOODNSOO, SPILTMILK, HUBBZ, & THINKTANK. Our third NYE party at the Beaumont and we expect it to be just as sold out as our last two!

MC THINKTANK – (Homebreakin Records, All Good Funk Alliance)
He has speed skated on Saturns rings and he could kick an asteroid into another galaxy! Thinktank will host as well as perform a showcase set of his tracks including his latest 'Night Moves' out this December on Homebreakin Records.

DJs:
WOOD 'N' SOO (Ghetto Funk, Resoul Records)
As their latest track Petty Larceny slices through charts like warm Butter Music on a hot steamy nixy night, Wood n Soo are relentless taste makers. Mixing future classics and exclusive bangers into every set. Whether individually or as a team, these two vets bring the ruckus where ever they go.

HUBBZ (Beatstreet Records)
Known for Rubba Dubbin up 12′s and 45′s all over town, Hubbz can be found at the Bayside, Charles, and or Ascot.
His musical tastes defy international boundaries- Hubbz just oozes flavour like an Groovy Grape Hubba Bubba left soaking in a stanky 808 breakbeat.

SPILT MILK (Homebreakin Records)
Spilt Milk has been liquefying minds and demolishing dancefloors since many of us were a glimmer in our mamas eyes. His frequent intergalactic auditory emissions are indeed part of his quest to find his home planet.

THAT AFRICAN (Perception Events)
That African has been killing it for the last several years throughout BC. Heavily influenced by equal parts, Hip Hop, Reggae, Breaks, and Bass his signature sound is constantly mutating through all things groovey. He really is from Africa too – I know, I was shocked as well.
Sound by DJ Soo
Doors @ 10pm until late
Pre-sales: $25, more at the door
The Beaumont Studios
316 West 5th Ave Vancouver
PLEASE NOTE: We are not a club or warehouse space, we are an independent Art Gallery – respect the space!
The Beaumont is located 5 blocks away from the skytrain and 4 blocks away from major bus routes. Transit is free all night on NYE with 24 hour service for most routes! PLEASE don't drink and drive!
Last Updated on