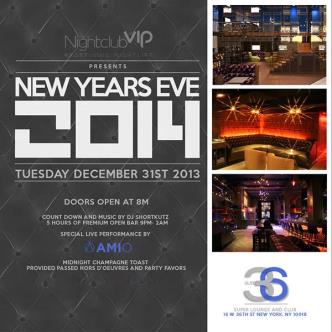 Venue:
When:
City:
Address:
Tue Dec 31 2013 800PM
New York
16 west 36th street
General Admission: $115.00
After 12:30 General Admission: $45.00
Suite 36 New Year's Eve 2014
Newest nightclub in NYC to ring in the new year
Suite 36 has a full service restaurant dining area, multiple semi-private suites, luxury sky-box tables/banquets in the mezzanine level, state of the art lighting & sound to compliment a professional DJ booth, this venue is the perfect place to ring in the New Year with a bottles and a bang! And with over 40 high definition television screens surrounding you, there's never a dull seat in the house. You're guaranteed to be in the middle of the high energy party while enjoying the luxury comforts their New Year's guests deserve.
So whether you're with a date or a group, Suite 36 NYC offers dinner, drinks and more!
General Admission
5 hour premium open bar (9pm-2am)Midnight champagne toastFeaturing a world-renowned DJTelevised broadcast of Times Square ball drop and live NYE 2013 countdownFestive NYE party favorsCoat Check (provided by and responsibility of venue – additional charge not included with ticket) Come early and help reduce wait time
Silver Table Package
Includes all General Admission amenities plus:Enjoy reserved nightclub seating (GA ticket holders stand)Bottle service and mixers at your table (quantity depends on groupsize please refer to bottle chart for specific information)Bottle service gratuity is a mandatory charge paid to the venue on thenight of the event. It is NOT included in the ticket price. (Bottles are included in ticket price!)Table Sizes (pending availability) accommodate groups of 4 or more
If you do not see a table size that suits your group, please call for more information.Groups of 4 to 5 people receive 1 Vodka and 1 ChampagneGroups of 6 to 8 people receive 1 Vodka and 2 ChampagneGroups of 9 to 12 people receive 2 Vodka and 2 Champagne
Gold Table Package
Includes all General Admission amenities plus:Enjoy reserved nightclub seating (GA ticket holders stand)Seating in semi private elevated VIP sections.Bottle service and mixers at your table (quantity depends on groupsize please refer to bottle chart for specific information)Bottle service gratuity is a mandatory charge paid to the venue on the night of the event. It is NOT included in the ticket price. (Bottles are included in ticket price!)Table Sizes (pending availability) accommodate groups of 4 or moreIf you do not see a table size that suits your group, please call for more information.Groups of 4 to 5 people receive 1 Vodka and 2 ChampagneGroups of 6 to 8 people receive 2 Vodka and 2 ChampagneGroups of 9 to 12 people receive 2 Vodka and 3 Champagne
Mezzanine Table Package
Includes all General Admission amenities plus:Enjoy reserved nightclub seating (GA ticket holders stand)Seating in the mezzanine level.Bottle service and mixers at your table (quantity depends on groupsize please refer to bottle chart for specific information)Table Sizes (pending availability) accommodate groups of 4 or moreIf you do not see a table size that suits your group, please call for more information.Groups of 4 to 5 people receive 1 Vodka and 2 ChampagneGroups of 6 to 8 people receive 2 Vodka and 2 ChampagneGroups of 9 to 12 people receive 2 Vodka and 3 ChampagneBottle service gratuity is a mandatory charge paid to the venue on thenight of the event. It is NOT included in the ticket price. (Bottles are included in ticket price!)
Owner's Table – 3500
Includes General Admission for up to 10 GuestsEnjoy reserved nightclub seating (GA ticket holders stand)Seating in the owner's elevated table in the middle of all the action.Bottle service and mixers at your tableIncludes 4 bottles of Grey GooseIncludes 2 bottles of Dom PerignonBottle service gratuity is a mandatory charge paid to the venue on the night of the event. It is NOT included in the ticket price. (Bottles are included in ticket price!)
Last Updated on