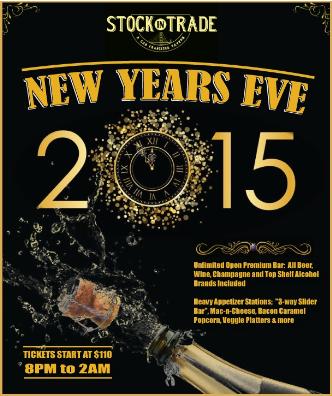 We had so much fun last year, that we're gonna do it all over again!
We recieved such a positive response from last year's New Year's Eve party, we decided to keep the same format and style this year. Unlimited premium open-bar, heavy appetizers, fun decorations, loud music, a countdown at Midnight, and several opportunities to make bad decisions…the ultimate New Year's Eve celebration! We have everything covered but the Uber ride home.

OPEN BAR (all night, from 8pm-2am. And yes, that includes Kettel One, Hendrick's Gin, Patron, 12 beers on-tap, good wine, FIREBALL and whatever else your little heart desires)

HEAVY APPETIZERS (come hungry, no need to eat dinner before you arrive, the food will be plentiful. See the menus and food schedule below)

MUSIC (those of you who frequent SiT on the weekends already know that we like to turn up the music and have a good time. We will have a very special playlist for NYE, including a countdown at Midnight. See music schedule below)

Conveniency and Comfort (if you're fed up with the porta-potties, make-shift bars, long lines and short staffs at these massive parties held in warehouses and hotels….come join us. We do this every weekend)
FOOD
8pm- Chip-n-Dips, Bacon Caramel Popcorn, Cheese and Fruit Platters
9pm- Caesar Salad; Slider Bar (3 types: Fried Chicken, Pulled Pork, and Meatball); Mac-N-Cheese; Yukon Gold Mahed Potatoes; Assorted Vegeatables and Dips (sauteed Brussels Sprouts, Grilled Asparagus, Carrots)
11:30am- House-made selection of cookies, chocolates and sweets
MUSIC
8pm- warm it up with some 80's, modern alternative, and pop (think The Cure, Michael Jackson, The Lumineers, Imagine Dragons, Tame Impala, etc etc)
11pm- you've eaten, you've had plenty of drinks, now it's time to move into some fun 80's Rock, 90's Hip-Hop and today's pop (think OutKast, Red Hot Chili Peppers, Rihanna, The Killers, Jay-Z and JT, Beyonce, Bon Jovi, Macklemore and Ryan Lewis, Lady Gaga, Dr. Dre, Marron 5, Nicki Manaj, etc etc.)
1am- more of the same, just a little bit louder and a little bit faster!
Table reservations are available for $100, and include a complimentary bottle of Prosecco. We have tables that seat 6-12 people, please email info@stockintradesf.com to reserve.
All other tables are fist come first serve, just like our normal weekends
Bocce Court is also first come first serve, with a chalkboard waiting list
Unfortunalately, coat-check will not be available
This event is 21+ only
Last Updated on