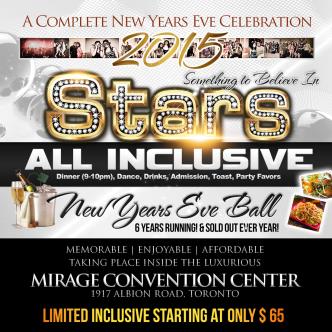 Venue:
When:
City:
Address:
Mirage Convention Centre
Toronto
1917 Albion Road
VIP Admission: $65.00
STARS NEW YEARS EVE
ALL INCLUSIVE FOR NEW YEARS EVE!!!
Six years running and SOLD OUT EVERY YEAR!
A New Years Eve is for everyone
Something to Believe in
STARS NEW YEARS EVE December 31, 2014
MEMORABLE| ENJOYABLE | AFFORDABLE
TAKING PLACE INSIDE THE LUXURIOUS
MIRAGE CONVENTION CENTER,
1917 ALBION ROAD, TORONTO
STARS INCLUSIVE STARTING PRICE ONLY $ 65
Includes Admission, Drinks, Dinner, Party Favors, Toast at Midnight
Entertainment from some of the top DJs and MCs in the GTA
Soca Monarch
Unstoppable Navi,
The undertaker Top 40 Dance
DJ Knight R&B
Baseline Kingz, Regee
WIC
Dancehall,Dance
Jay Quintero,Top Latino DJ
MC
SKF
Live Entertainment by Vegas Dancers Spice Girls
info line 416319 2727, 416 873 8695, 416 606 7656
STARS INCLUSIVE DRINKS (served from 9PM to 2AM)
Rum | Whiskey | Vodka | Wine I Beer |Champagne | Rye | Pop & Water
Bottle Service also available for only$100/bottle (Black/Grey/Crown)
STARS INCLUSIVE DINNER (served from 9PM to 10PM)
Baked Chicken | Fried Rice | Chow Mein |Roasted Potatoes Garden Salad | Pastries |
Special Hotel rates at Quality Inn on Airport and Carlingview Road for $99,including Parking, free breakfast, call 416 674 8442 X 5745 Promo Code: Go events Stars NYE
Complimentary shuttle bus will leave hotel at 8:30 and 9:30pm and returning at 2:00AM and 2:45AM.
Please email us with number of guest and name to be on the shuttle, goevents@hotmail.ca
Last Updated on