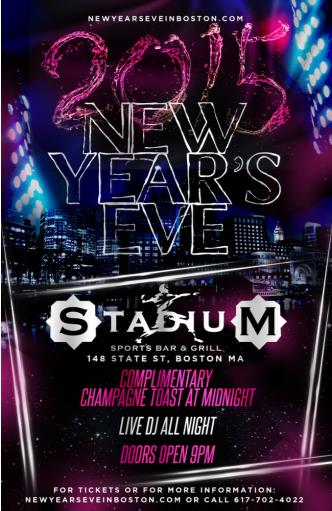 Venue:
When:
City:
Address:
Stadium Bar
Boston
148 State Street
General Admission: $34.95
Stadium Bar is one of Boston's most iconic venues. Located right in the heart of Faneuil Hall, this venue is home to some of the best holiday events all year round. Why should New Year's Eve be any different? Tickets are very limited due to the high demand for this year's NYE Extravaganza at Stadium Bar. This event has sold out in previous years and we expect the same for 2015. New Year's is a time for reflection and celebration. Reminisce about the good times you've encountered this past year and make sure you're making the best New Year's Eve resolutions for 2015. Don't get stuck with a mediocre event on December 31st. This is where you want to be – the center of it all.
Located at 148 State St, Stadium Bar & Grille encompasses a party atmosphere that caters to everyone. All patrons will receive a complimentary champagne toast at midnight to elevate the experience and to ring in the New Year properly. Grab your significant other and show them how much you care. Welcome the New Year in style and grace. Optimism is the feeling that we should all have for NYE. Whether you're looking for a great party crowd, awesome drinks, or just a fun-filled vibe to ring in the New Years, we've got you covered. May the next 365 days of our lives be as beautiful as the New Year's Eve Extravaganza at Stadium Bar.
***Complimentary Champagne Toast at Midnight for all attendees.
For more information about the 2015 New Year's Eve Extravaganza at Stadium Bar & Grill, visit NewYearsEveinBoston.com or call 617-702-4022
Last Updated on