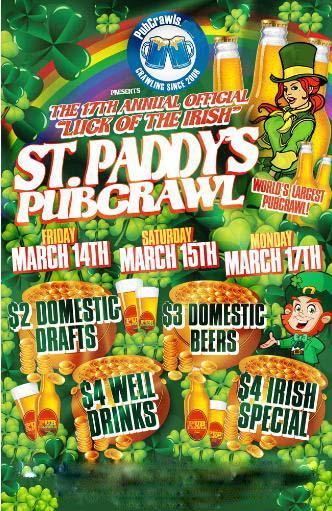 Venue:
When:
City:
Address:
3 DAY ALL ACCESS PASS WASHINGTON DC: $10.00
Registration at The Front Page [5pm - 12am]: $5.00
Everyone knows that St. Patrick's Day is the biggest night of the year for hitting the bars, hanging out with friends, and letting your inner Irish come out in full force. And 2014 is going to be the best yet. This year, let PubCrawls.com make St. Patrick's Day your most fun night of the year. On Monday, March 17th, our Official St. Patrick's Day PubCrawl has been organized by us, the biggest and most experienced pub crawl company in the United States, for anyone and everyone to come out in full Irish regalia to enjoy the night. Washington DC is one of the best cities in the country for nights out on the town, and PubCrawls.com has enlisted some of the best bars in the Dupont Circle area of our nation's capital to be included on this crawl.
Start out by registering at the Front Circle where you'll receive all necessary items to start out the pub crawl. Then you and your friends will be free to go from bar to bar at your own pace, enjoying the most awesome drink specials possible all night long. Even if you're not Irish, you and everyone else certainly will be this March 17th. PubCrawls.com has been organizing these events for countless years, and we know how to deliver. Purchase tickets today and we'll make sure you and anyone you bring along will have the time of your life on the biggest night of the year for crawling from pub to pub. It's time to be Irish!
3 DAY ALL ACCESS PASS WASHINGTON DC
General Admission access for 1 to the PubCrawls.com St Paddy's PubCrawl on all 3 days.
Access to ALL participating venues.
REGISTRATION VENUE: The Front Page
ADDRESS: 1333 New Hampshire Ave
REGISTRATION TIMES:
Fri 03/14 [5pm 12am]
Mon 03/17 [5pm- 12am]
Registration at The Front Page [5pm - 12am]
General Admission access for 1 to the PubCrawls.com Official St Patrick's Day PubCrawl on Monday 03/17.
Access to all participating venues
REGISTRATION VENUE: The Front Page
ADDRESS: 1333 New Hampshire Ave
REGISTRATION TIMES: Mon 03/17 [5pm - 12am]
Last Updated on