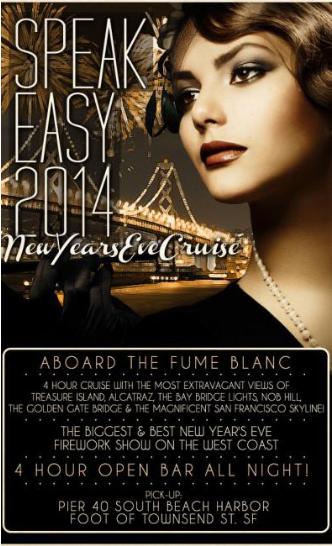 Venue:
When:
City:
Address:
Golden Ticket: $125.00
Golden Couple: $235.00
Crazy Eights: $1950.00
Speak Easy 2014
New Year's Eve Cruise aboard the Fume Blanc Commodore
Three Years in a row #1 sold out NYE event in San Francisco by far.
Last year's Cruise sold out 2 weekes before New Year's Eve.
Spend your New Year's Eve Cruise among the mover and shakers on this Speak Easy cruise aboard the Fume Blanc.  You will be picked up in the San Francisco Bay  where you'll board and hit the city lit bay where you'll go on a 3 1/2 – 4 hour cruise with some of the most vivid views of Treasure Island, Alcatraz, The Bay Bridge Lights, Nob Hill, the Golden Gate Bridge, the magnificent San Francisco Skyline, and an Admiral's view of the biggest New Year's Eve Firework show on the West Coast.
There are 3 amazing floors on the spacious 400 passenger Fume Blanc Commodore. Seating will be first come first served on the lower decks, but there will be some reserved seating on the 2nd level so table service reservations can have the best views of the all the gorgeous scenery and the firework show.
- Black Jack Tables with Dealers
- Top 40 DJ
- Amazing views of Firework Show
- And more!
This cruise sells out every year. Space is limited. All Sales are final. No refunds or exchanges. Prices are subject to change while supplies last.
Check-in:  7:30PM, Pier 40 | Boarding: 8:30 PM | Cruise Begins 9:00 PM ? Disembark: 1AM 
Pier 40, foot of Townstead St. Neat AT&T park NOT by Per 39. No refunds if you miss the boat.
This party has been the first NYE party in SF to sell out for the past three years! Please plan accordingly and purchase tickets for any expected/additional friends by 12/15.
::|| All Sales are final. No refunds or exchanges. Prices are subject to change while supplies last. Must be 21+ to attend ||::