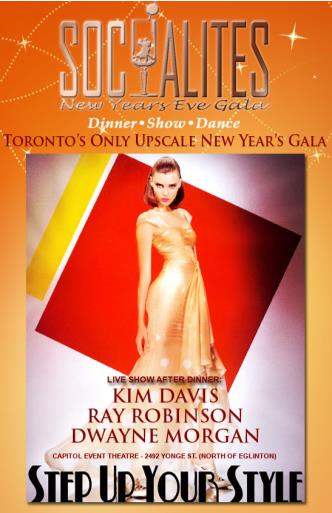 Venue:
When:
City:
Address:
Tue Dec 31 2013 700PM
Toronto
2492 Yonge Street,
DINNER, SHOW & DANCE – Chicken: $85.00
DINNER, SHOW & DANCE – Salmon: $85.00
DINNER, SHOW & DANCE – Vegetarian: $85.00
SHOW & DANCE: $45.00
SOCIALITES YEARS EVE GALA
New Years Eve @ CapitolEvent Theatre
New Years Eve sparkles at theprestigious Capitol Event Theatre.
Profile Entertainment invites you tocelebrate New Years in style, elegance and class; in an atmosphere ofuncompromised charm and prestige. Its the tenth anniversary return of:
SOCIALITES
New Years Eve Gala
DINNER- SHOW – DANCE
Socialites New Years Eve Gala is acutting edge semi-formal event for Torontos progressive social audience. To mark the emergence of this world-class social affair, ProfileEntertainment ups the ante by bringing you this awe-inspiring event atTorontos most prestigious and charming venue: The Capitol Event Theatre.

The Capitol Event Theatre; the crown jewel of luxury venues abounds in charm.Its dramatic and charged with excitement like the city that sustains it. Fromthe moment you enter the lobby of the Capitol Event Theatre, you'll know you'veentered one of the world's grandest venue. Given the fact that Socialites NewYears Gala has been the number one upscale social event in Canada for almost adecade, the venue and the event are a perfect complement.
DINNERAND LIVE SHOW:
Come and experience Canada's mostprestigious affair in true five-star fashion. To your delight, the culinarygeniuses at the Capitol are preparing a sumptuous three-course sit-down served dinner. After dinner your evening draws to excitement with athrilling and sensational LiveAfter Dinner Show with some of Canada's top musicstars. Featuring:
Canadas First Lady of R&B Kim Davis Juno Nominated R&B Singer Ray Robinson The Canadian King of R&B S. Davis World Renowned Spoken Word Artist Dwayne Morgan
DANCE PARTY:
After the show its the mostanticipated; often imitated; never duplicated; SOCIALITES New Years Eve DanceParty! Its eclectic! Explosive! Electrifying! Join Toronto's elitesocial audience in an atmosphere class, elegance and style. Party on one of theworlds most beautiful dance floor and be entertained by Toronto's finest DJs.Featuring:
DJ MAX B (G98.7FM) DJ STEALTH (Toula on the Westin) Complimentary Champagne Toast at Midnight Party Favors and Door Prizes 2 immaculate floors to party 35 Private VIP Bottle Service Booths Semi-formal Dress Code One Unforgettable Experience
DINNER,SHOW & DANCE: $85
SHOW& DANCE: $45
Address
Capitol Event Theatre 2492 Yonge St.@ Castlefield (North of Eglinton)
Price
$85 Dinner, Show &Dance
$45 Show & Dance
Hours
7:00pm-3:00am
Event Type
Special Event
Dates
Tuesday December 31st,2013
Minimum Age
21+
Dress Code
Semi-Formal (no jeans,hats, runners, t-shirts and sportswear)
Music
Top 40, R&B, House, Old School,
Last Updated on