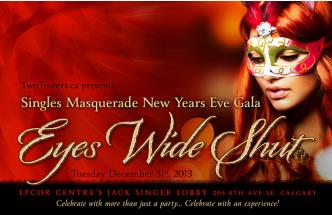 Venue:
When:
City:
Address:
Tue Dec 31 2013 900PM
Calagry
205 8th Ave SE
General Admission (Final Batch): $78.70
Join us for an exhilarating night filled with mystery and excitement at Calgary's most elegant venue, The EPCOR Centres Jack Singer Lobby.
TwoTowers proudly presents…
* SINGLES MASQUERADE *
* New Years Eve Gala *
EYES WIDE SHUT
DECEMBER 31st, 2013
EPCOR Centres Jack Singer Lobby (205 8th Ave SE)
We invite you to a night filled with intrigue, interactive games, and masked mischief as you enter the world of mystery. Both singles and couples are welcome, so weather you have a partner or you are looking to meet someone new, Singles Masquerade New Years Eve Gala is the place to be on Dec 31st 2013.
Enter a world filled with magic and excitement. Receive a white rose if you are single or a red rose if you are in a relationship. See a person that you want to connect with? Write your sweet nothings on one of three glitter wristbands and break the ice by giving your wristband to that special someone. Check out our beautiful side room and get the chance to meet someone new by jumping into our speed dating section! Mingle with Calgary's sexiest singles and celebrate in style as you dance the night away to the best in Top 40, Dance, Old School, and exclusive mixes spun by DJ Anthem.
DRESSCODE: Formal attire, masquerade mask, (prize will be awarded to the best dressed man and woman of the evening)!
* This year celebrate with MORE than just a party… CELEBRATE WITH AN EXPERIENCE! *
*******************************************************
–> $20 EARLY BIRD TICKETS ON SALE AT CLUBZONE.COM THIS FRIDAY (NOV 22nd) AT 10AM!! <---
These tickets will sell out QUICK! Don't wait till the last minute this year.
DIRECT LINK: http://www.ClubZone.com/
*******************************************************
* MAIN ROOM *
The best Top40, House, Old School, and remixes spun by DJ ANTHEM
* SIDE ROOM *
Speed Dating, interactive games, and more!
* TICKETS *
Early Bird Tix – $20 (available online Friday Nov 22 at 10am WHILE SUPPLIES LAST)
Next Batch – $49.95
Final Batch – $74.95
More @ Door (if available)
* TICKET OUTLET *
ClubZone.com
All TwoTowers ticket reps, DJs, and promoters
* CHAMPAGNE PACKAGES *
Celebrate in style and book an exclusive CHAMPAGNE PACKAGE today. Limited number of packages available. These packages will sell out quick!
For More info visit
.:: Twitter: @TWOTOWERSCA ::.
.:: Facebook: Facebook.com/TWOTOWERSCA ::.
.:: Instagram: instagram.com/TWOTOWERSCA ::.
Last Updated on