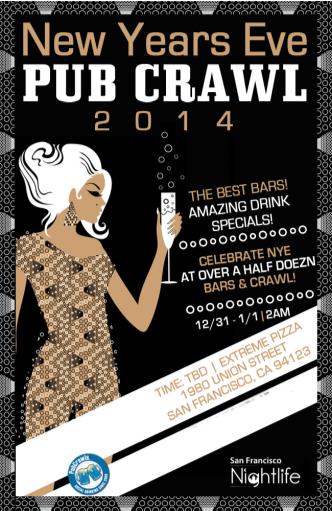 Venue:
When:
City:
Address:
SOLD OUT! FOR MORE SF NYE EVENTS VISIT: SFNIGHTLIFE.COM
World Famous 2014 New Years Eve Pub Crawl

Woohooooo! Ring in 2014 at the best San Franciscobars in the Marina District with our World Famous 2014 New Years Eve Pub Crawland get crazy with mind numbing drink specials:
Deals:
$4 Drafts Domestic &Select Imports
2 for $14 Premiums
2 for $14 Champagnes
at over several locations with NOCOVER!!!
1) Registration: Check in anytime between (6PM-10PM). Don't be late

Extreme Pizza
1980 Union Street
San Francisco, CA 94123
So don't waste your time at 1 party when you cancrash several, $ave big cash, and have the time of your life this NYE!!!
- Must be 21+ to participate
- Do Not Drive – Take acab, limo, walk, or arrange designated driver.
Full Disclaimer:
Must be 21 years old to participate; valid State ID required. 2 for 1drinks means you get 2 drinks for the price of one. Actual drinks offered areat the venue's discretion, and are subject to change. Advertised drink specialsare subject to change and may vary at certain venues. After 10PM drink specials may increase $2. Each venue may only participate in the drinkspecials for a 3 hour period. If a venue is at capacity then you may have towait until person exit prior to entering. There will be multiple venuesparticipating in the drink specials at anytime that you can go to. Participatingvenues and advertised times are subject to change. Participants must bringtheir Print At Home Ticket to the registration venue.
::-| All Sale Final. No Refunds or exchanges. Prices subject to changewhile supplies last.
Last Updated on