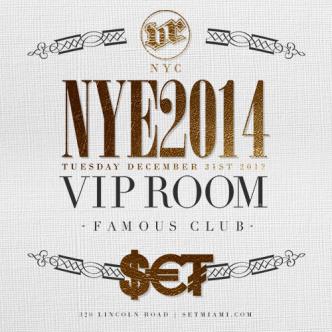 Venue:
When:
City:
Address:
General Admission: $200.00
General Admission Girl Ticket: $75.00
Upstairs Table for up to 6 people: $1500.00
Downstairs Table for up to 6 people: $2500.00
Downstairs Center Catwalk Table for up to 8 people: $3500.00
MAGNUM Crystal Table for up to 10 people: $5000.00
THE WINNERS CIRCLE VIP PACKAGE: $30000.00
JET SET MIAMI: $100000.00
DJ Booth DOUBLE MAGNUM Cristal Table for up to 10 people: $7500.00
SET x VIP ROOM : ST TROPEZ NYE IN MIAMI WITH SOUNDS BY NYCs DJ BERRIE
South of France hits Miami Beach for One Night Only featuring the ultimate Winners Circle table package

SET, South Beachs most elite VIP club is teaming up with St. Tropezs esteemed VIP Room nightclub to bring South of France to Miami for one night only New Years Eve 2014. Featuring sounds by NYCs most versatile and beloved jetset crowd DJ, DJ Berrie, SET will celebrate all the debauchery of Jean Rocs iconic hotspot. Featuring multiple open bars til midnight, a complimentary champagne toast, midnightlight show, and table packages for parties of all sizes throughout the venue including tables along SETs legendary center catwalk , VIPs and jetsetters can ring in 2014 with ultimate joie de vivre. This year only, SET is unveiling The Winners Circle VIP Package where you and thirty of your friends can take over SETs private Trophy Room with private bar, bartender and bathroom looking over the main floor which includes 20 bottles of Crystal, 5 bottles of Grey Goose, 3 bottles of Patron and all the exclusivity of a Hollywood celeb.
Ticket Details
General Admission
- Open bar from 9pm til midnight
- Complimentary Champagne Toast at midnight

General Admission Girl Ticket
***This ticket is made for females only. If presented by a male at the door, customer will have to pay the door price at that time***
- Open bar from 9pm til midnight
- Complimentary Champagne Toast at midnight
Upstairs Table for up to 6 people:
$1,500 per table (tax and gratuity will be charged at the venue)
Includes all the amenities of General Admission for 6
1 bottles of premium Louis Roederer Champagne
1 bottles of premium Grey Goose
Downstairs Table for up to 6 people:
$2,500 per table (tax and gratuity will be charged at the venue)
Includes all the amenities of General Admission for 6
2 bottles of premium Louis Roederer Champagne
1 bottles of premium Grey Goose
Downstairs Center Catwalk Table for up to 8 people:
$3,500 per table (tax and gratuity will be charged at the venue)
Includes all the amenities of General Admission for 8
2 bottles of premium Louis Roederer Champagne
2 bottles of premium Grey Goose
MAGNUM Crystal Table for up to 10 people
$5,000 per table (tax and gratuity will be charged at the venue)
Includes all the amenities of General Admission for 10
1 MAGNUM of Crystal champagne
2 MAGNUMS of Grey Goose
DJ Booth DOUBLE MAGNUM Cristal Table for up to 10 people
$7,500 per table (tax and gratuity will be charged at the venue)
Includes all the amenities of General Admission for 10
2 MAGNUM of Cristal champagne
2 MAGNUMS of Grey Goose
THE WINNERS CIRCLE VIP PACKAGE
Located in the Private Trophy Room w/ private bar, bartender, and bathroom overlooking the main dance floor
Up to 30 people
20 Bottles of Crystal
5 Bottles of Grey Goose
3 Bottles of Patron
$30,000.00 (tax and gratuity will be charged at the venue)
JET SET MIAMI
DJ Booth Table
100 Bottles of Cristal
5 Bottles of Don Julio 1942
5 Bottles of Grey Goose
Last Updated on