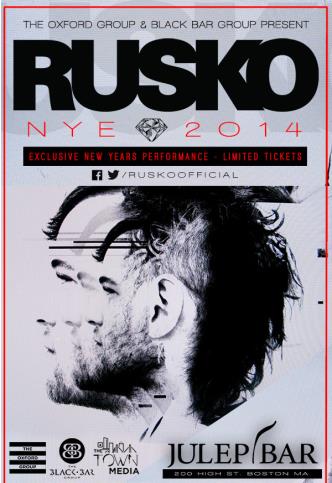 Venue:
When:
City:
Address:
Tue Dec 31 2013 900PM
Boston
200 High Street
GENERAL ADMISSION: $125.00
The Oxford Group & Black Bar Group Present
RUSKO NEW YEARS EVE @ JULEP | 12.31.13 | Boston, MA | 21+
World renowned DJ & dubstep pioneer RUSKO comes to Boston for one of his most private & exclusive performances ever – this New Years Eve.
RUSKO
Hello, world: Rusko kindly requests that you wake the fuck up.
The Leeds-born DJ/producer who ascended with the original U.K. dubstep movement and gave it one of its first and most enduring anthems, a bolt of foul-mouthed rave lightening called Cockney Thug is here to tell you that music is not about labels and dance is no fad. And to prove it, he proudly presents SONGS: His gutsy, freewheeling, brilliant second album.
The sound of my early releases was very dub-influenced, and just good, fun, bouncy vibes, he says. The majority of dubstep at the moment I think is aggressive, and I dont like angry music; I dont want to be angry in a club. So I wanted to make something really happy, but still heavy.
Happy and heavy is a proper way to describe the vibe that has carried Rusko from the first moments of dubsteps life to the biggest stages in the world; from a single, seminal bass wobble to a swath of sounds that cant be capped in a few simple syllables. He might be one of the guys who started it all but hes sure as hell not going to leave it at that.
There is indeed a rowdy kind of sprightliness throughout SONGS, which sets a wizards box of dance music charms to some of its most misunderstood: cracking, smacking breakbeats, and reverberant, sonic-boom bass. The rave piano vamp of first single Somebody to Love, the accelerated classic house of Pressure, the head-nodding reggae of Skanker, the epically trancey sweep of Opium and Thunder, even Dirty Sexy, a tongue-y but not so cheeky nugget of American-style R&B: They all express a different part of what makes Rusko pogo like a punk while he spins, and carry the energy and soul of his inimitable, genre-be-damned style.
Rusko is touring internationally behind SONGS, and preparing to release an EP with a similarly ingenious group of rule-breakers: American hip-hop outfit Cypress Hill.
So world, if youre awake, now hear this: Rusko is here to roll the beats, and dance music will never be the same.
http://www.facebook.com/ruskoofficial
http://twitter.com/ruskoofficial
http://www.ruskoonfire.com/
21+ event. No alcohol permitted on premises other than that served by the licensed vendors of this event . Unruly conduct, excessive intoxication, or improper identification (only proper Driver's license or Passport will be accepted) may result in denial of entry or ejection from the Venue at the sole discretion of the Venue's security staff and/or management, without refund of the ticket purchase price. At any disgression
ALL TICKET SALES ARE FINAL: NO REFUNDS
DRESS CODE IS ENFORCED. COCKTAIL/DRESS ATTIRE HIGHLY ENCOURGED
Last Updated on