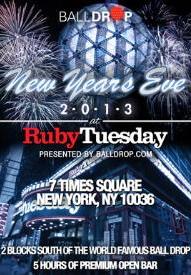 Venue:
When:
City:
Address:
Ruby Tuesday in Times Square
Tue Dec 31 2013 900PM
New York
585 7th Avenue
General Admission: $195.00
HIGHLIGHTS
Located in the heart of Times Square, one block south of the LIVE Ball drop!
Two-Level Restaurant
(5) hr Open bar, starting at 9 PM
(2) hr Passed Ruby Tuesday Signature Appetizers, starting at 9 PM
Great VIP seating options for couples and large groups

OVERVIEW

Far from your average Ruby Tuesday, this 10,000 square foot bi-level restaurant is a venue that exudes style, and the perfect place to celebrate the big night. Delicious signature appetizers and fun party favors will keep you in the New Year?s Eve spirit all night long. Upstairs, the 7,500 square foot second floor will be where the action is, as we play host to a mini-nightclub with a 5-hour premium open bar and one of the hottest dance floors in Times Square. A live DJ will be spinning the hottest beats with a flair for old-school jams. With a state of the art sound system, you can dance the night away in style! Downstairs, you?ll find nearly 3,000 square feet of exclusive seating for VIPs, who will receive VIP bottle service and exclusive appetizer platters. If you?ve got someone special lined up for your New Year?s kiss, you can reserve a private table for two, and ring in 2013 in the finest romantic style. And no one will miss a thing, with a live feed of the Ball drop and a DJ countdown to midnight?s champagne toast.