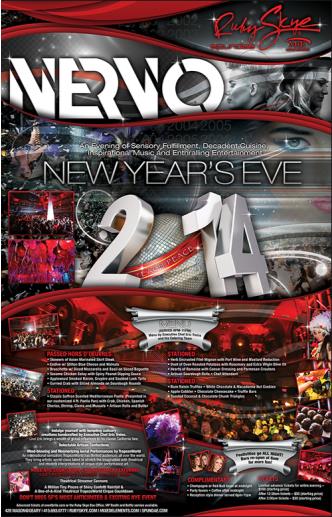 Venue:
When:
City:
Address:
General Admission – CLUBZONE SPECIAL: $80.00
Starting out in the mid-2000s, Australian sisters Mim and Liv Nervo made their name by writing smash singles for artists like Ke$ha and Kylie Minogue, remixing superstars like Katy Perry and Thirty Seconds to Mars, and joining forces with David Guetta to co-write his Grammy-winning When Love Takes Over. They quickly built upon that experience by releasing music under their own name, NERVO, alongside some of the biggest producers today including Afrojack, Steve Aoki and Nicky Romero, while tearing through arenas across North America on the Britney Spears/Nicki Minaj Femme Fatale tour. Now, one of the most sought after acts in dance music, NERVO, can be found balancing their rigorous worldwide touring schedule while working on their debut album that soaks deadly-catchy melody into the loud, dirty beats that set apart their brand of progressive and electro-house.

When not in the studio Mim and Liv can most likely be found spinning at clubs, parties, and festivals all around the world, with their travels including stops at Lollapalooza, Electric Daisy, Ultra and Tomorrowland where they notably celebrated their first Beatport #1 song, The Way We See The World (the official Tomorrowland 2011 anthem, co-written and co-produced with Afrojack, Dimitri Vegas, and Like Mike). Their club addiction manifested itself in their first Winter Music Conference party this past year (a Delano Hotel event that featured NERVO along with R3HAB, Adrian Lux, Sneaky Sound System, Hook N Sling, and Quintino) as well as two major residencies in 2012: one at the Wynn Hotel Group in the newly anointed EDM mecca of Las Vegas, the other at Ushuaa Ibiza Beach Hotel.

Were pop writers and were club addicts, notes Mim. To that end, their latest single Youre Gonna Love Again layers heartache-curing lyrics over in-your-face beats and a synth-drenched sound that slays. Its the follow up to their debut single Were All No One released in 2011, which saw the Australian sisters teaming up with the aforementioned Steve Aoki and Afrojack to top charts all over the world.

As they balance DJ-ing with songwriting/producing and making their own musicand also serving as hosts of NERVO Nation, their monthly show on SiriusXMs BPM channelthe globe-trotting duo considers spinning essential to honing in on the perfect sound. Since were not spending all our time in the studio anymore, we get to play our records when we DJ and instantly see how the crowd reacts, says Mim. Were always educating ourselves with that feedback. And those moments when people have their hands in the air and theyre loving the tunesits one of the best rushes you can experience. It means everything to us.
Terms and Conditions:
This event is 21 and over. Any Ticket holder unable to present valid identification indicating that they are at least 21 years of age will not be admitted to this event, and will not be eligible for a refund.
Last Updated on