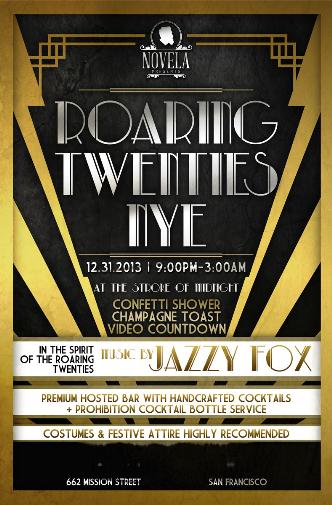 Venue:
When:
City:
Address:
Open Bar: $125.00
Novela Presents
Roaring Twenties NYE
12.31.13 | 9pm – 3am
Get out your feather boas, long bead necklaces, argyle sweaters, plaid knickers, wingtips, fedoras, and headbands! We're throwing a Roaring 20s New Years Eve bash at Novela complete with flappers and big band-style DJ Jazzy Fox playing dance remixes and jazz infused contemporary tunes.
Along with a premium open bar with hand crafted cocktails, we will be offering exclusive table side punch bowls made right in front of you, Prohibition era cocktail bottle service, and of course, bottles of bubbly all night!
Attendees will also enjoy themed Cocktail Waitresses and Cigarette girls servicing guests and offering special goodies throughout the night. Doors open at 9pm with a late close at 3am, offering guests an afterhours party experience.
New Year's Eve at Novela Features
Music By Jazzy Fox
Premium Hosted Bar with Handcrafted Specialty Cocktails
Midnight Video Countdown
Confetti Shower & Champagne Toast at Midnight
Prohibition Era Photo Booth
Need a ride to the event? Sidecar is giving $5 in credit to anyone taking a ride to or from Novela for Roaring Twenties NYE! Just set your pickup or dropoff over the venue and theyll add $5 to your account when your driver picks you up. Limit of one claim per rider, so tell your friends to download the app!
About Novela
Serving cocktails with character, Novela pays homage to classic literary heroes in design and spirit. The cocktail program comes courtesy of Bar Stars Kate Bolton and Alex Smith. Creating a menu with a compelling mix of hand crafted cocktails, and a historically inspired punch-on-tap program that honors the original formula of citrus oil from freshly zested fruit, sugar, spice, and spirit.
Last Updated on