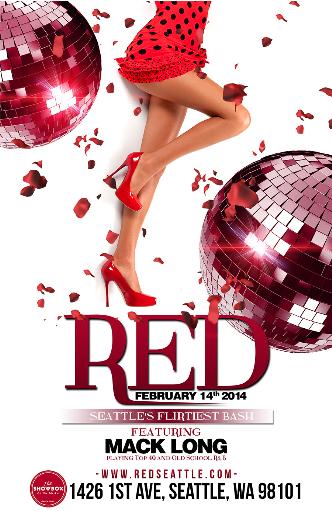 Venue:
When:
City:
Address:
Fri Feb 14 2014 800PM
Seattle
1426 1st Ave.
Regular: $39.00
VIP: $59.00
RED is the flirtiest bash to hit the Seattle nightlife scene and is coming to the Showbox at the Market on Friday February 14th. This party will bring out your sexy as you dance the night away to Top 40 and old school R&B hits with 92.5 DJ Mack Long. Slip into your hottest cocktail attire and come party with the best Seattle has to offer.
_______________________
What are guests wearing?
Please come dressed to impress in your best cocktail attire such as dresses, slacks, and ties. No sneakers, athletic gear, jeans, etc.
What are the guests like?
This event is for everyone 21 and over. Couples, singles, or those coming in a groupall are welcome.
The event is on Valentines Day. Does that mean it will be full of couples?
No way! This event is for anyone that wants to have a good time. Come solo and meet new people or come with a group of your friends.
Im single and ready to mingle. Is there anything for me at this party?
Yes! RED has partnered with Renessa Rios at ThreeStepDating.com to host singles activities throughout thenight. More details to come!
Bars?
There will be 5 full bars set up. All bars will take both cash and credit, and there is an ATM inside the Showbox.The bartenders also accept Visa and Mastercard.
Last Updated on