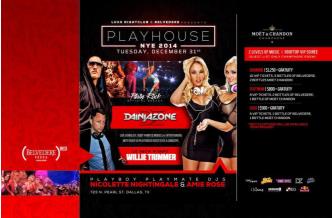 Venue:
When:
City:
Address:
Tue Dec 31 2013 900PM
Dallas
723 N. Pearl St
Regular: $30.00
VIP: $60.00
You are cordially invited to attend Luxx Nightclub's Official "NYE Playhouse 2014″ Celebration featuring LMFAO's Party Rock DJ Dainjazone and International Playboy Playmates "Nicolette Nightingale & Amie Rose!" This Highly anticipated event also features an OPEN BAR "VIP Rooftop" Soiree with Dallas' own DJ Willie Trimmer – The Biggest Industry Tuesday Night is Boasting the Biggest New Year's Event in Downtown Dallas!
Date: Tuesday, December 31st Location: 723 N. Pearl Street; Dallas, TX
NYE 2014 PACKAGES:
Diamond | $1,250.00 + Gratuity Includes: 10 Tickets, 3 Bottles of Belvedere, 2 Bottles Moet Chandon
Platinum | $800.00 + Gratuity Includes: 8 Tickets, 2 Bottles of Belvedere Vodka, 1 Bottle of Moet Chandon
Gold | $500.00 + Gratuity Includes: 6 Tickets, 1 Bottle of Belvedere, 1 Bottle Moet Chandon
Ticket Accommodations: Presale: $20.00 General: $30.00; VIP Open Bar: $75.00 (VIP Presale: $60.00)
Dainjazone | www.djdainjazone.com From sharing stages with acts such as Kanye West, Avicii, Calvin Harris, Afrojack, Kaskade, Steve Aoki, Lil Jon, Chris Brown and Katy Perry to traveling the world as Redfoos tour DJ and co-hosting an online music show, Dainjazone has established himself as one of the most versatile DJs in the business. With current residencies at XS Vegas and Supperclub Los Angeles, Dainjazone has also performed at AV Nightclub Hollywood, Privilege Ibiza, Liv Miami, Playhouse Hollywood, Marquee Las Vegas & Sydney, Sutra, Gotham Cannes, Le Loft Paris, Studio Paris and LURE Hollywood. Dainjazone has been featured on MTV, ABCs Good Morning America, Playboy Radio, Vibe, The San Diego Union-Tribune, FOX5 Las Vegas News and Good Morning San Diego.
Playboy Playmates: Nico Nightingale & Amie Rose Model, Dancer, Actress, Host & International DJs http://www.niconightingale.com/ http://www.theamierose.com/
Willie Trimmer http://12inchpimps.com/ http://soundcloud.com/djwillietrimmer
Luxx | 723 N. Pearl Street; Dallas
Last Updated on