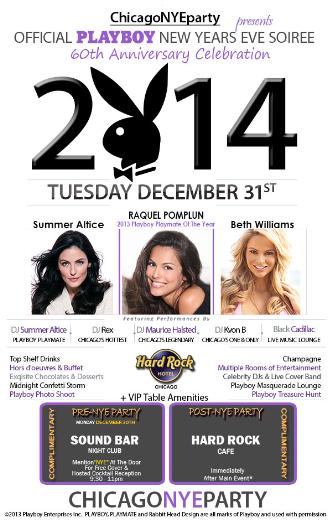 Venue:
When:
City:
Address:
Tue Dec 31 2013 900PM
Chicago
230 N. Michigan
General Admission: $155.00
The Official Playboy New Year's Eve Celebration at Hard Rock Hotel Chicago!
60th Anniversary Celebration!
New Year's Eve Soiree 2014 at Hard Rock Hotel
Playboy New Year's Eve Soiree at Hard Rock Hotel!
Party Like A Rock Star in Chicago's Hottest Hotel
Hosted By
Playmate Playmate the Year - Raquel Pomplun
Summer Altice
Beth Williams
featuring
4 Hour Top Shelf Hosted Cocktail Reception
Specialized Drinks Included:
MartinisImportsWine
Champagne ~ Live The Good Life
***OVER 30 Staffed Bartenders & Servers For Your Needs***
BUFFET, HORS DOEUVRES, AND DELICACIES
A Pasta Buffet, Variety of Hors doeuvres, and delicious food from Chicagos Top Chef
Sexy Chocolates & Desserts
Red Bull
Premium Vodka, Gin, and Rum
Premium Scotch, Bourbons, and Whiskeys
Premium Martini, Imports, and Wine Selections
Sip on Chocolate Martinis All Night
Complimentary Bubbly All Night
Celebrity DJs, State of the Art Intelligent Lighting & Sound System, Elegant Chic in Ballroom, Floor to Ceiling Windows, Live Video Mixing & Confetti Storm, Multiple Ballrooms of Entertainment, Beautiful Decorations, Party Favors and Noisemakers, & Coat Check. Guests will be provided with six drink tickets upon NYE registration. Additional drinks will cost one dollar with proceeds benefiting The Red Cross Relief Efforts.
Exclusive Giveaways:
Win A Trip To the Playboy Mansion!Win A Weekend Stay at the Hard Rock Hotel!Reserved VIP Table w/ Bottle Service at Angels & KingsExclusive Table Service Giveaway at Pre NYE PartyMore To Be Announced
*Limited Amount of Tickets Available to this Event
VIP Table Amenities
Celebrate New Years Eve VIP Style and Reserve Your Exclusive Table (limited amount available). Limited VIP Tables are available for reserved seating within the event ballrooms. VIP Tables include the following:
EVERYTHING included in the General Admission levels PLUSCopy of 60th Anniversary Playboy IssueTop Shelf Bottle & Table Service including Champagne, Redbull, & Top Shelf DrinksGet Top Shelf Bottles of Vodka & Top Shelf Champagne on Your TableReserved Seating w/ VIP AmenitiesVIP Hostess to seat your party
Reserve Your VIP Tables:
Seating for Two: $500 inclusive (includes 2 tix, 1 Champagne Bottle) ~ Couples Bubbly Table sell fast!
Seating for Four: $1000 inclusive (includes 4 tix, 1 Vodka & 1 Champagne Bottle)
Seating for Six: $1500 inclusive (includes 6 tix, 2 Vodka Bottles)
Seating for Eight: $2000 inclusive (includes 8 tix, 2 Vodka & 2 Champagne Bottles)
Featuring Entertainment Like No Other:
Playboy Masquerade Lounge
Bring out your mask as we turn one of our multiple ballrooms into a sexy masquerade ball! Masks not required, but encouraged.
Playboy Treasure Hunt
Find the hidden Playboy bunnies! Win A Tour of the Playboy Mansion, Playboy Swag Bag, + More!
Playboy Costume Photo shoot
Youre Hugh Hefner Tonight! Enjoy this New Years Eve with a picture you wont forget.
DJ Summer Altice Playboy Playmate Live DJ Set
Summer is a high energy DJ who heats up nights at the Playboy Mansion, and performed at some of the top nightclubs in the world.
She is also the resident DJ at famous Las Vegas Deuces Lounge. Seductive and versatile on the screen, Summer Altice can be seen featured in the films The Scorpion King, Wedding Crashers, You, Me and Dupree and Grind. She has also co-starred on the incredibly popular series CSI: NY, Medium, One Tree Hill and HBOs Entourage.
DJ Rex Mainstrean / Top 40 / Hip Hop
As a proud Chicagoan, DJ Rex has been seen entertaining all around the Chicago land area. Starting at the age of 12, DJing has always been a part of his life. He has been leaving his mark in the Mid-West with his crowd pleasing sets for nearly 20 years. He performs night after night with his distinctive blends in hip-hop, house, 80s, 90s, top 40, and pop. Rexs DJ career jump-started when he entered the Chicago Nightlife scene in 2000. He has performed at an endless list of venues while catering to a wide variety of crowds. Today, he can be spotted at Epic Lounge, Debonair Social Club, Macys Department stores, and at a collection of corporate events. In recent years, Rex has refined his style to adapt to any event to create the perfect ambiance. He strives to make each occasion unforgettable and to perform above anything you would expect. His goal is to leave everyone remembering who the DJ was that night.
DJ Maurice Halsted High Energy / Mash Ups / EDM / House
Maurice Halsted has been identified as one of Chicagos most talented and well diversified djs. His sets include house, Top 40, techno, rock, progressive, hip hop and unique mash up combinations. He is one of the original founders of the mash up style of mixing and has pioneered his way into the air waves of millions throughout the US. Maurice Halsted has also opened for multiple artists including: Ice Cube, Rihanna, Lady Gaga, Flo Rida, Kevin Rudolph, Ludacris, Trey Songs, Jay Sean, Oranthi, Jason Derulo, Kelly Clarkson, B.O.B., Justin Bieber, Blake Lewis, Iyaz, Kaci Battaglia, Sean Paul, White Tie Affair, Jaiko, Boys Like Girls, Cobra Starship, V Factory, Kristina DeBarge, Emii, Sean Kingston, Kesha, Carmen Reese, Livvi Franc, Chiddy Bang, Pitbull, Cee Lo, Taio Cruz and more!
DJ KvonB Retro / Old School / 80s / 90sDJ KvonB has been rocking soundstages, clubs, and parties since 2005 with no end in sight! DJing since before he could even drive himself to the venues, his experience behind the tables is not even a question. When those headphones go on, you know its going to be bumpin night. By blending what the crowd wants to hear with the hits of today, DJ KvonB keeps the party going all night and has club goers wanting more each weekend.
Dont miss the finest DJs in Chicago spinning a great mix of Hip Hop, 80s,
Top 40, Retro, House, and the Latest Hits.
Live Music Lounge: Black CadillacRight out of the gate, youre going to realize that Black Cadillac isnt your average cover band. No goofy costumes, no cheesy shtick, & no computers doing the work for them. Simply put, from start to finish, Black Cadillac plays hard, sings hard, and barely stops to take a breath. A virtuoso lead guitar player, a dynamic, passionate lead singer, a stage dominating bass player, and a female drummer whos as talented as she is good looking this ISNT your average cover band. From Pop to Top 40 Classic Rock to 80s sing-a-longs Doo-wop to Hip-Hop Prog Rock to Bubble Gum Pop. The shows pace is fast and will always keep you guessing and moving and singing along. Were giving you shotgun in this ride Come see 4 dedicated music-lovers give their all.This event also includes:Midnight Bunny DropPlayboy Signature CocktailsPlayboy Drink FavorsMeet and Greet with Playboy Playmates+ more
Last Updated on