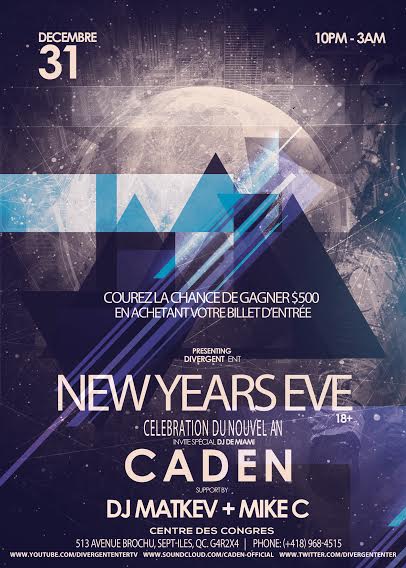 CENTRE DES CONGRES
Sept-Iles
513 Avenue Brochu
Pre-Ventes (10pm – 12am): $15.00
En ce réveillon du Jour de lan, Divergent Entertainment en collaboration avec plusieurs entreprises locales vous présente, pour la première fois au Centre des Congrès, une expérience artistique et musicale unique alliant les arts de la scène et du divertissement à de la fine gastronomie et mixologie.


Ce 31 Décembre deux événements vous serons présentés;
Le Party des jeunes et celui des 18 ans &+

avec invité spécial

DJ CADEN

et DJ MatKev + Mike C

Profitez de lexpérience…
et Courez la Chance de Gagner un Ipad Air 2 pour vos études ou $500 en argent en achetant votre billet dentrée.
——————————————————————————-
For this New Years Eve, Divergent Entertainment in collaboration with local businesses is bringing you for the first time at the Convention Center a unique artistic experience combining arts & music shows with the finest in gastronomy & mixology.
Two events will occur on the 31st of December :
All ages party and 18 &+
with special guest
DJ CADEN
Supported by
DJ MatKev
Enjoy the experience …
and Get a chance to win an Ipad Air 2 for your studies or $500 cash by purchasing your entrance ticket.
Last Updated on