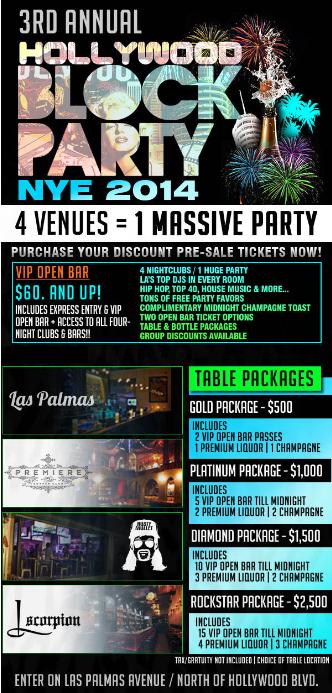 Venue:
When:
City:
Address:
Tue Dec 31 2013 900PM
Hollywood
1712 – 1724 N. Las Palmas Blvd.
*FINAL BATCH* VIP OPEN BAR & FOOD TILL MIDNIGHT: $100.00
*FINAL BATCH* VIP OPEN BAR & FOOD ALL NIGHT: $125.00
VIP OPEN BAR & FOOD TILL MIDNIGHT – GROUP OF 5: $450.00
VIP OPEN BAR & FOOD ALL NIGHT – GROUP OF 5: $550.00
OPEN BAR ALL NIGHT – GROUP OF 10: $1100.00
VIP OPEN BAR & FOOD TILL MIDNIGHT – GROUP OF 10: $800.00
NEW YEARS EVEBLOCK PARTY

Tuesday, December 31st, 2013
** This event is indoors – outdoor smoking patios available **
4 of LAs Hottest Clubs unite to bring you Hollywoods BIGGEST New Years Eve Party with Over 2,000 club goers Expected!
Check out the previous year's countdown!
Come join us for one of the most talked about LA new years parties! The most extravagant and anticipated New Years party in Los Angeles. When the countdown begins this NYE, reward yourself with only the finest premiere dance floors, Champagne Toasts, & Exclusive VIP Table Packages giving you the opportunity to enhance your New Years experience and so much more!
Why wait for the last minute and risk being left out of the most illustrious and prominently celebrated evening of the year.
* PURCHASE DISCOUNT TICKETS NOW!
* THIS EVENT WILL SELL OUT!
We are offering group discounts to groups of 5 and 10 or MORE… You wont want to miss out on the biggest new year party in LA.
Why is this hottest NYE party in Hollywood?
Features:
- Access to 4 of the TOP Hollywood night clubs and bars whenever you please.
– LIVE performances
– Concert style stage production
– Each Club will provide different levels of entertainment and vibes to give you the opportunity to find the perfect atmosphere
– 4 spectacular countdowns inside each club w/ confetti blasts
– TONS of FREE party favors for ALL guests
– Complimentary Champagne Toast at Midnight
– 5 Hour Open Bar ALL Night with multiple bars at each venue
– Open Seating & VIP Sections
– Over 2,000 People having the time of their lives!
* PURCHASE DISCOUNT TICKETS NOW!
* THIS EVENT WILL SELL OUT!
More Details on these amazing venues:
::|| Premiere Supper Club
::|| The Rusty Mullet Bar
::|| Las Palmas Nightclub
::|| L'Scorption Bar
PREMIERE SUPPER CLUB
with optimal flow and visual stimuli in mind for every inch of the club. Stepping through the front doors, you enter into a large, yet intimate room, bordered by arches, raised seating, and a 30-foot bar. Two staircases lead upstairs to a second level, which overlooks the dance-floor and DJ booth. The upper level boasts an additional,
full-service bar, as well as the most exclusive balcony seats in the house.
THE RUSTY MULLET
With custom-blended burgers and an extensive list of shots (yes, shots), Rusty Mullet is a new casual place to watch sports and hang with friends in Hollywood. Actor Vinny Laresca (Premiere, Outpost) remade the old Dolce Group's Angels and King's into a colorful drinking den that might intentionally be reminiscent of HBO's Eastbound and Down. Customers can enjoy ample high-chaired seating across the exposed-brick room, along with 24 (count 'em) flat screens for viewing from any angle.
LAS PALMAS NIGHTCLUB
Las Palmas is one of the hottest clubs in town — the kind of place where Carmen Electra celebrates her birthday and where Leonardo Di Caprio and drinking buddies hang out. The dining room features a dramatic 500-gallon jellyfish tank over the bar, windows hidden behind sheets of cascading water, a tin-stamped ceiling, and neon-illuminated blue shag carpeting on the walls. In the midst of it all are candlelit white-linen tables and some cozy booths for table service guests.
L'SCORPION TEQUILA BAR
LScorpion is a uniquely authentic Tequila bar that speaks to the true Tequila culture and traditions of Mexico. With nearly 200 varieties of Tequilas to choose from, LScorpion offers the finest spirits and handcrafted cocktails including a premium collection of Blancos, Reposados, Anejos, Mezcals and flavored Tequilas.
Located at LAS PALMAS AVENUE & HOLLYWOOD BLVD.
* PURCHASE DISCOUNT TICKETS NOW!
* THIS EVENT WILL SELL OUT!
Hard Tickets – Please contact us to arrange for pickup of hard tickets prior to the event. Ticket pick up cut-off will be 3pm on Tuesday, December 31st, 2012. Ticket pick up locations may vary.
Last Updated on