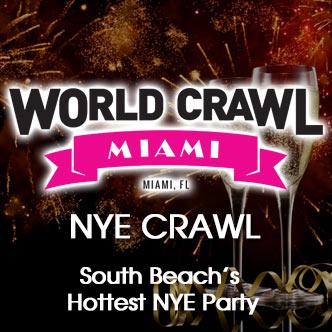 Venue:
When:
City:
Address:
Tue Dec 31 2013 830PM
Miami
825 Washington Ave
ClubZone.com presents
WORLD CRAWL – MIAMI NYE CRAWL
1. CLINTON HOTEL – SEA LEVEL LOUNGE
with
OPEN BAR
2. PARTY BUS
3. MOKAI
with
OPEN BAR
Las Vegas' Best Party has landed in Miami & South Beach. Jump on a Crawl today! World Crawl Miami is the absolute Best way to party in South Beach!

Any plans for NEY yet!? We have a great option for some fun and affordable celebrations
!!! Our NEY crawl is the way to smash the start of 2014 and finish 2013 in beauty. We have put together a simple and great tour check it out!
We have a full team of hosts whose sole purpose is to introduce you to the hundreds of other Crawlers on the tour. We often get the party started with 'Flip-Cup' tournaments, 'Beer-Pong' type challenges and a bunch of other Sociables that speed up the friend making process. It is the perfect way to conquer a new city, arrive solo and leave with an army of new friends. We do our vey best to make that happen, in an easy, safe and fun environment.
Check out what is part of the Top NEY Crawl of south beach:

Schedule of one Bar, Party Bus & one Club; Sea Level Lounge at the Clinton Hotel and Mokai nightclub.
Entry Fees into the venues are included. ($200 Value)
Snacks – Appy style, at the first venue.
All Drinks til Midnight - Open bar (wells Cocktails) at the Sea Level Lounge & open bar at Mokai (wells Cocktails) until midnight.
Social Games; Flip-Cup, Beer-Pong, the Clothespin Game and more – our squad of Hosts will get you started.
Name-tags, Party Beads – all the supplies needed.
Transportation – Party Bus from Sea Level Lounge to Mokai, because thats how we roll

A Squad of Hosts, dedicated to your safety, fun and comfort
Faster than VIP entry to All of the Venues, we roll right past the VIP lines
Hundreds of other Crawlers to meet!
HUGE DISCOUNT OFF YOUR NIGHT OUT!
Miami is one of the most expensive cities in the world to party. Cover charges, drinks, skip the lines and a party bus! That's in the hundreds of dollars to do the same schedule on your own – without the new friends. Join the Crawl, do it all for cheaper with a hundred new friends! One ticket for all this in only $150
KICK – OFF : 8:30PM on most nights, Always check with us at ' Sea Level Lounge at The Clinton Hotel on Washington ' on the day of, to find out where and when your Crawl Starts!
PLEASE NOTE: DRESS CODE IS STRICTLY ENFORCED IN MIAMI, PLEASE CONTACT US IF YOU HAVE ANY QUESTIONS
* The Crawl is a schedule of entry to a variety of venues. You participate at your own discretion. The Crawl does not own or operate any of the venues we visit or transportation we take. You are not bound to stay with the Crawl, you may go as you please however to recieve the benefits of the schedule you must be on schedule.
Above & Beyond - We do More! Check this out:
For ticket holders, we are thrilled to extend our insider knowledge of Pacific Beach & San Diego to help you will all aspects of your trip, on your other nights! Take advantage of this by asking for
Guest-lists on other nights to other nightclubs – We can get you into them all!
Bottle and Table reservations to any venue.
Recommendations and reservations to shows, dinners, you name it!
Optional After-Hours or Gentlemen's Clubs

Once you are a ticket holder, you have access to everything we do! Let us be your personal concierge, your 'Guy in Miami'. Grab your ticket now and give us a call!

Check out our other cities: Las Vegas, San Diego, and Whistler

TERMS & CONDITIONS

A CLUB CRAWL IS SOLEY AN ADMISSION PACKAGE TO INDEPENDANT VENUES. WORLD CRAWL DOES NOT OWN OR OPERATE ANY OF THE PARTICIPATING VENUES. PARTICIPATION ON THE CRAWL ONLY GAINS YOU ENTRY TO THE PARTICIPATING VENUES AS SCHEDULED. YOUR PARTICIPATION IN ACTIVITIES BEFORE, INSIDE OR AFTER THE PARTICIPATING VENUES IS COMPLETELY UP TO YOU.
1. NO REFUNDS. All Sales are final. No refunds will be granted once a ticket is purchased as events sell out. You are purchasing a limited 'seat' to an event. Ticket holders are required to understand the requirements to participate in the tour. No refunds will be granted for failing to meet these requirements before, during or after the event has commenced.
2. IDENTIFICATION. The legal age in Florida is TWENTY-ONE YEARS OLD. All attendees must be 21 years old to take part in all of the activities that the Crawl provides access to. It is the ticket holder's responsibility to produce proper acceptable U.S GOVERNMENT ISSUED IDENTIFICATION or INTERNATIONALLY RECOGNIZED IDENTIFICATIONS (Passport) at EACH LOCATION. The Crawl is not responsible for verifying identification, this is strictly up to each venue and is done so at their discretion. The Crawl is not responsible for ticket holders without proper identification, or ticket holders who are refused entry.
3. DRESS CODE. All guests must dress according to the standards set by each location. Each ticket holder is required to conform to these standards and the Crawl is not responsible for those who do not comply. If you have a question please contact the venue itself, as the Crawl is not responsible if you are denied entry.
4. STAY WITH THE CRAWL. You must remain with the Crawl to receive the benefits of the Crawl at the participating venues (drink tickets, food or food specials, expedited and free entry, and other).
5. YOUR CONDUCT. Each venue allows you entry based on their policies and is the same if you were visiting them outside of the tour. You are responsible for your conduct. If you are denied entry due to intoxication, rowdy or lewd behaviour, or other, the Crawl is not responsible.
Last Updated on