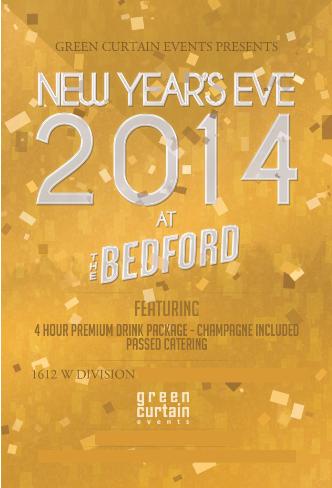 Venue:
When:
City:
Address:
Tue Dec 31 2013 800PM
Chicago
1612 W. Division
General Admission: $135.00
New Years Eve 2014 at The Bedford
1612 W. Division Chicago, IL
Inspired by the social excellence ofthe bygone era, The Bedford-Chicago provides a modern-day twist to theattraction creating more than just avenue for your countdown experience. Withvintage design and dcor, it is the perfect setting for a luxury New YearsCountdown equipped with multiple rooms, tiered levels, private tables, premierDJ, and amazing countdown spectacular. Atrue Chicago experience along withunforgettable entertainment, service, and an A-List Crowd will all assemblethis Holiday Season as The Bedford welcomes 2014 in style.
400+ Elite Capacity, High-End Decor, Ideal VenueSpace for all in Attendance
Ticket Includes:
4-Hour Premium Drink Package from9pm-1am
Fine Upscale Catering
Complimentary Champagne & Red Bull
Live Entertainment
Welcome Reception Starting at 8pm forEarly Processing
Coat Check and Valet Available
CURRENT TABLE LISTINGS INCLUDE:
-High Top Rounds with Seating for $200; Bottle of Champagne Included
-Private Key Room Buyouts for $700; Includes Ultra-Exclusive Room off the Main Party Avenue with Private Bar and Tender
*Please inquire with Jim for details!
For a New Years Eve fine dining experience, it issuggested that attendees of The Bedford Celebration consider The CarriageHouse (located only blocks away at 1700 W. Division St). EnjoySpirits, Company, and a Four-Course Meal designed by the house chef tocompliment your countdown of a lifetime.

HOTEL HELP!?
For PreferredHotel Rates at the HYATT REGENCY CHICAGO
ONLY$159 For Single orDouble-Bed Rooms
-The HyattRegency is Conveniently Located at: 151 E. Wacker Dr. Chicago, IL
All Table Costs are IN ADDITION to Ticket Purchases.VIP areas for larger parties (Up to 50 Guests) also available upon request
*Allguests must have a ticket to enter the event. Seating is not guaranteed. ValidID Required; Must be 21 to Enter. TheBedford reserves the right to refuse service for any patron at venuediscretion. Venue is not responsible forany lost or stolen items
Last Updated on