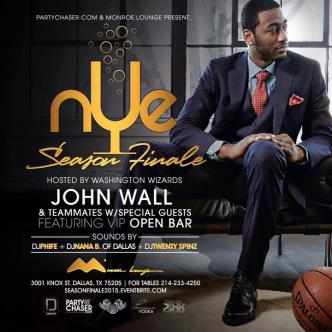 General Admission: $50.00
VIP Open Bar: $100.00
VIP Patio Table Reservation Deposit: $600.00
NYE2015: JOHN WALL & DRAYA MICHELE @MONROELOUNGE
Have your last NYE parties been kinda ummm (just ok)?
Do you really wanna just TURN THE (bleep) UP WITH JOHN WALL & DRAYA MICHELE?
@Partychaser has the ANSWER!!
For the 1st Time @monroelounge and @partychaser will team up for the cities ONLY VIP OPEN BAR party for New Years Eve!
Red Carpet | Have a few drinks | Bottle Pop at your table | Smoke some Hookah | hell, if you get hungry at end of night, we even have an Omelet station for you!
Best part. (In my Kevin Gates voice) We dont get tired!! so we are staying open till we feel like it!
For more info, tickets, packages Call 214-233-4250
Last Updated on