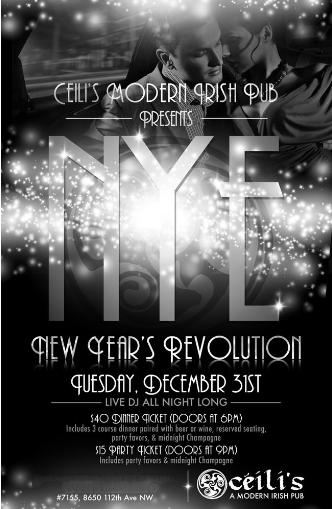 Venue:
When:
City:
Address:
Tue Dec 31 2013 600PM
Calgary
7155, 8650 – 112 Ave NW
Join Ceilis Modern IrishPub for our 2014 NewYears Revolution Party! Since were evolving, we thoughtour parties shouldtoo. Ceilis invites you to be part of the revolution withlive music, moderndining options and plenty of drinks!


Menu
Warm beet salad – goat cheese, balsamicreduction, spiced pecans,spinach
Tuxedo bisque – black bean & white cheddarlayered soup, marblerye croutons

Roast Chicken – 24 hour beer brined bone in,garlic mashed potatoes,lemon caper broccolini, rosemary pan jus
Steak & prawns- garlic mashed potatoes,sauted mushrooms, onionmarmalade, brandy peppercorn, broccolini.
Shellfish risotto – prawns, mussels, scallops,wild mushrooms,truffle oil
(v) Wild mushroom ravioli, truffle beurre blanc,wild mushrooms,crispy sage

Mini cupcakes

Doors at 6pm
Complimentary midnight champagne toast
$40 dinner tickets, seating between 6-9pm
$15 late night tickets after 9pm
Last Updated on