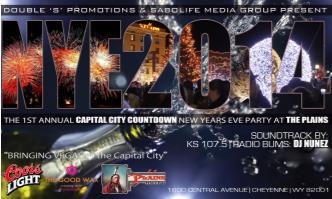 Venue:
When:
City:
Address:
The Historic Plains Hotel
Tue Dec 31 2013 830PM
Cheyenne
1600 Central Ave
Regular: $45.00
Regular: $80.00
New Years Eve Party @ the Plains!
The CAPITAL CITY COUNTDOWN will be the hottest New Years Eve party in Cheyenne located at historic Plains Hotel! Enjoy a great view of the Ball Drop with access to an outdoor VIP area while dancing the night away!
This is Cheyenne's only VIP New Years Eve party so come dressed to impress!
General Admission into the event provides:
*Party Favors
*Champagne Toast at midnight
*Extreme sound and lighting
*VIP area for Ball Drop
*Coors Light Promotions
*Hotel Room Specials
*Photographer onsite
*The Best Dance Party in Cheyenne
Music provided by DJ Nunez!! One of Colorado best Dj's, Nunez has rocked party's across the country and in Asia. His mixtapes have reached international audiences and have over 15k listens and downloads. His support, listeners, and fan base is well over 700,000 with his nightly clubs and weekly radio mixes!
Don't forget to 'Ride the Elevator' home after the event. The Plains Hotel will provide NYE Party Rates.

""Get your tickets now before the event sells out!