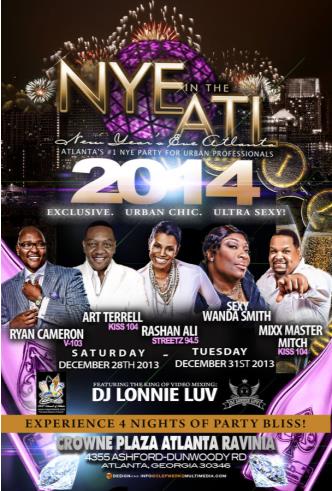 Venue:
When:
City:
Address:
Tue Dec 31 2013 600PM
Dunwoody
4355 Ashford Dunwoody Rd.
General (NYE): $75.00
VIP (NYE): $100.00
Diamond (Wknd): $150.00
VIP Reserved Table for 10: $995.00
Why celebrate New Years 2014 in Atlanta only for just one night? Its a whole new year after all, and NYE in the ATL 2014 wants to celebrate with you for FOUR NIGHTS! Presenting New Year's Eve Weekend Atlanta 2014, Atlanta's #1 New Year's Eve Party for Urban Professionals! Experience 4 Nights of Party Bliss on Saturday, Sunday Monday and Tuesday!
The hottest R&B, Hip-Hop, Old School, House, Reggae and Salsa will be spinning at NYE in the ATL to keep you dancing, partying and coming back for more! How much better can it get you ask…? How about World Class Entertainment! Saturday its a Red Carpet Affair: Meet and Greet PlayDate Party; Sunday its a Hot Poolside Day Party and Cool Vegas Night Pajama Party; Monday its a Blackout Affair: Concert & AfterParty; and on the BIG Night, Tuesday it's NYE in the ATL 2014: The Ultimate New Year's Eve Party! 5 Theme Party Rooms, Comedy Jams, Poetry Slams, Top Shelf Open Bars and much more! With VIP party options available you can celebrate the New Year with the utmost class and style.
The General Admission alone gets you access into all the party rooms to mix/mingle, meet singles, and share that special moment at midnight! The VIP Admission gets you ALL ACCESS to the party rooms and Top Shelf OPEN BARS thru midnight! But for the party animal that want to go all out and make this New Years Eve the most memorable for you and your friends, The Diamond Pass includes ALL FOUR NIGHTS of party bliss, access to ALL VIP Party Rooms, AND Top Shelf OPEN BARS!
Please Don't Drink & Drive: Take the Elevator Home!
If you buy your tickets now, you get exclusive access to an amazing hotel room or suite to make the night complete!
Last Updated on