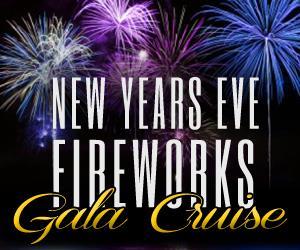 Venue:
When:
City:
Address:
COUPLES TABLE: $600.00
COUPLES TICKET: $350.00
DIAMOND EIGHT: $1875.00
GOLDEN TICKET: $185.00
SF Nightlife Presents
NEW YEARS EVE FIREWORKS GALA CRUISE
aboard the Pinot Noir Commodore Yacht

- DJ Entertainment

- 4 HOURS HOSTED BAR
- Specious 2 story Yacht
- Large Indoor Panoramic Windows- Amazing views of Firework Show- And more!
This cruise will sell out!!! Space is VERY limited due to Coast Guard Regulations. All Sales are final. No refunds or exchanges.
Prices are subject to change while supplies last.
Please plan accordingly and purchase tickets for any expected/additional friends by 12/15.

Check-In: 7:30pm at Pier 40 (Near SB 40 Restaurant)
Boarding: 8:00pm
Departing: 8:30pm
Returning: 12:30am
**** Pier 40, is located foot of Townstead St. Neat AT&T park NOT by Per 39. No refunds if you miss the boat ****
DRESS CODE: Semi Formal attire required
Parking: No designated parking available on Pier 40, public/street parking along Townsend and Embarcadero St available only. Highly recommended to allow extra time to find parking day the of the event as there will be lots of traffic. Public transportation BART/MUNI/TAXI/UBER recomemnded as well.
::|| All Sales are final. No refunds or exchanges. Prices are subject to change while supplies last. Must be 21+ to attend ||::
Last Updated on