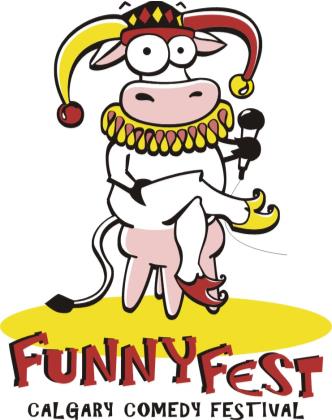 Venue:
When:
City:
Address:
Tue Dec 31 2013 700PM
Calgary
3130 16 Street SW Ca
NYE Comedy Extravaganza: $99.00
New Year's Eve Comedy Extravaganza
Presented by FunnyFest Calgary Comedy Festival. A great amount of fun to usher in the New Year with old and new friends and LAUGH while you create NEW memories!
FEATURE HEADLINERS:
Tommy Savitt — is a Multi- Award winning STAND UP COMIC. Tommy performs an exhilarating brand of eclectic comedy rarely seen today. Tommy's unorthodox comedy routine envelops his audience and teleports them into a domain of hilarity and pure craftmanship.
Tommy has won the prestigious 2007 Boston Comedy Festival, 2008 Seattle Comedy Competition, and was honoured for the "Best In Comedy" category at the 2009 LA Comedy Awards. TOMMY was a FUNNYFEST FAVOURITE Comic for 3 years in row! Tommy has been seen on WGN's "The Bob & Tom Show", SI Tv's "Funny is Funny", Comcast On Demand, Man Up Stand Up on Mav.Tv and on JLTV's "James and Sunda". Tommy's comedy CD "Who Wants Me Now!" is one of the top requested on satellite radio.
Stu Hughes — Over-the-top funny! As real and genuine a comic, with an effortless ability to keep the audience glued to the non-stop action.
+ 2 GUEST STAND UP COMICS!
Spectacular BUFFET DINNER of Prime Rib with 10 item buffet, Sparkling Wine, Party Favours, Dance MUSIC
Dessert, Coffee, Tea
Great prizes FREE $100 Gift Certificate
When: Tuesday, Dec 31, New Years Eve
Time: 7 pm 3 am
Where: Marda Loop Community Centre, 3130 16 Street SW, Calgary
Dress: upscale casual
FREE parking galore
Cost:
1. 8 pm onward seating (MAIN SHOW) — $99 with dinner comedy package
2. 6 pm to 730 pm (EARLY SHOW) $30 SHOW (show only; food & beverage extra)
SPECIAL OFFER: Buy 12 tickets and receive 14 tickets ($198 Value free)
Last Updated on