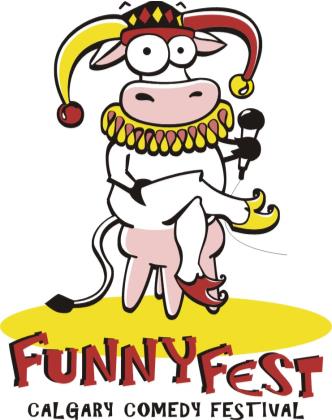 Marda Loop Community Centre
Caglary
3130 – 16 Street SW
NYE Comedy – EARLY SHOW – 4:30pm – 6pm: $29.00
NYE Comedy Extravaganza Show Only – 845 pm: $49.00
NYE Comedy Extravaganza with Dinner: $99.00
FunnyFest New Year's Eve Comedy Extravaganza
Presented by FunnyFest Calgary Comedy Festival. A great amount of fun to usher in the New Year with old and new friends and LAUGH while you create NEW memories!
FEATURE HEADLINERS:
RON VAUDRY — Intelligent, witty and sardonic, Ron is the thinking man's comedian. A satirical genius teetering precariously at the edge of comedy, Vaudry guides audiences through a series of hilarious, yet thought provoking political and social observations.

Stu Hughes — Over-the-top funny! As real and genuine a comic, with an effortless ability to keep the audience glued to the non-stop action.
+ 3 GUEST STAND UP COMICS!
FEATURES: Spectacular BUFFET DINNER of Prime Rib with 10 item buffet, Sparkling Wine, Party Favours, Dance MUSIC
Dessert, Coffee, Tea (Vegetarian or Chicken options)
Great prizes: FREE $100 Gift FunnyFest Certificate
When: Wednessday, Dec 31, New Years Eve
Time: 7 pm to 3 am
Where: Marda Loop Community Centre, 3130 16 Street SW, Calgary
Dress: upscale casual
FREE parking galore
Cost:

1. Main Dinner Show & Dance Package: 7 pm onward seating (Dinner 730 to 830; 9 pm to 11 pm COMEDY SHOW; 11 to 2 am Live music) — $99 with dinner comedy package
2. Show Only Package: 8:30 pm onward seating (Includes party favours & sparkling wine) — $49
3. EARLY SHOW: 4:30 pm to 6:00 pm $29 SHOW (show only; food & beverage extra)
SPECIAL OFFER: Buy 10 tickets and receive 11 tickets ($198 Value free)
Last Updated on