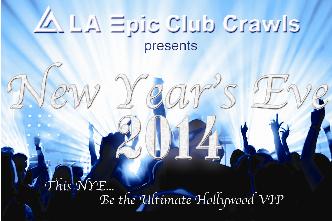 Venue:
When:
City:
Address:
VIP: $100.00
New Years Eve 2014
The Prestige Party Package
This NYE… Be the Ultimate Hollywood VIP
Join LA Epic ClubCrawls as we party hop our way through Hollywood. Instead of going to just oneparty on your own (if you get in), your NYE professional party host will guideyou to 3 Epic Parties, straight past the lines as well as cover charge, andinto the venues with a drink or a shot in hand. Dont stress, well take careof you!
The Prestige Party Package
3 Nightclubs
1 Shot
1 Drink
1 OPEN BAR Ticket untilclose at the last venue, Colony!
Midnight ChampagneToast
3 VIP Entries – NoLines, No Cover, GUARANTEED ENTRY*
Complimentary HorsD'oeuvres
Professional PartyHost – No Stress!
Well start off thenight at Lexington Social House at 7:30pm,an indoor/outdoor venue with swanky DJs, fire pit, and specialty cocktails.Enjoy hors doeuvres, sip on a cocktail or two and meet fellow NYE LA Epic VIPpartygoers! Well then move the party to Couture as youll skip straight pastthe lines and go right into Couture nightclub! Known for its high end fashioninspired models, cocktail waitress and bar tenders party the night away withthe 3 different rooms and 3 different DJ's all in one nightclub! Finally, we'llring in the New Year at Hollywood hotspot Colony! We'll walk you straight pastthe long lines and right into the club like a true VIP. At this Hampton's styleclub, take advantage of the premium open bar privileges and party it up like asan elite!
Make sure you are anLA Epic VIP to guarantee an amazing night
Cost: $100
Last Updated on