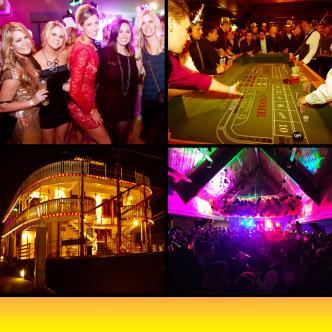 Venue:
When:
City:
Address:
Catamaran Resort
Tue Dec 31 2013 800PM
San Diego
3999 Mission Boulevard
Regular: $109.00
VIP 8:30pm Cruise: $129.00
VIP 10:45pm Cruise: $129.00
Main Event Ticket includes:
? All inclusive ticket includes drinks, hors d?oeuvres, and top local level entertainment
? Expanded bar service ? more bars and bartenders!
- Expedited first drink for each party guest
- Beer tubs to eliminate lines
? Four rooms of top-tier entertainment featuring:
?Official NYE event for Sleeping Giant Music?
- DJ Fresh One
- DJ Chris Cutz
- DJ G-Roy
- JJ Flores
- Artistic
- Jason Whitmore on Saxophone
- DJ FishFonics
- Will Duka
- Myron Eugene
- Billy the Kid
? Come stay (discounted hotel rooms available) and party at this luxurious resort overlooking Mission Bay
? The place to be in Pacific Beach ? don?t deal with the headache of downtown
? Free shuttle bus throughout PB for all those w/ tickets
? Themed photo booths to help us remember what we usually don?t!
? Yelp Cell Phone Charging Stations
? Whatever?s Comfortable Southern Comfort Lounge ? Outside by the bay on the lawn
? Buy tickets soon to take advantage of the lower prices and get on board before it sells out
Optional VIP Party Boat Upgrade:
Includes everything in the main ticket and the following:
? Come aboard the 3 story William D. Evans VIP Party Boat as it floats around Mission Bay with banging beats on this historic Sternwheeler!
? Full Casino on board for all VIP?s to party and play for some amazing prizes! Top winner of each cruise will win 2 Jet Pack America passes!
? DJs playing music on the dance floor ? and throughout the boat!
? Two Cruise times to choose from:
? 8:30pm ? 10:30pm
? 10:45pm ? 1am ? Midnight Cruise!