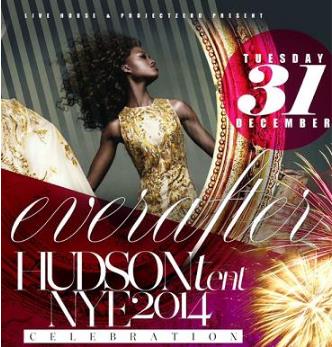 Venue:
When:
City:
Address:
Tue Dec 31 2013 800PM
HOUSTON
2506 ROBINHOOD
NEW YEARS EVE (2014) EverAfter Celebration at The HUDSON TENT!
The Hudson New Years Eve Party will be an understated "Party of the Year" in Houston's Rice Village. Serene, sophisticated, and subtly swank, we welcome you to relax on our beautiful patios, sidle up to our sleek marble bars, or groove to the beats & mixes of our carefully curated sounds by World Famous DJ's while you sip cocktails and Welcome The New Year!
Hudson Lounge's luxe design embraces the definitive tenets of mid-century modern architecture: open floor plans, bright, natural, white light, an emphasis on horizontal and vertical lines, and accomplished attempts at bringing the outdoors in via floor-to-ceiling windows, skylights and patios interspersed with indoor spaces. The Lounge's front, main building spans 5,800 square feet in two primary rooms and features a white marble bar, LED lighting and modern, but comfortable, furniture. Multiple flat screen televisions behind the bar-hidden from view, when not in use, by one-way mirrors-and LED projectors aimed at interior and exterior walls will support a variety of audio visual offerings for patrons!
Large, custom-made geometric glass and steel "swivel doors" at the front and back of the building, facing north and south, create a natural breezeway when opened, leading to the 1,500-square-foot back patio, an artistic triumph reminiscent of the modern minimalism of 1960′s Palm Springs. The casually cool area is hemmed in by the bars' floor-to-ceiling windows and stark, white stucco walls, while tumbled blue glass peeks through giant cement pavers, and a row of palm trees tower over the patio's western wall & More.
This Will Be One For The Ages….
Expanded TENT
Beautiful LED laser Light Show
Midnight Video Countdown & Ball Drop

Valet parking
2 Remodeled & Extended Patios+ 3 Rooms of Entertainment
Red Carpet Entrance
VIP Areas Offer:
Hour Hosted VIP Bar
Party Favors & Gift Bags
Champagne Toast

Last Updated on