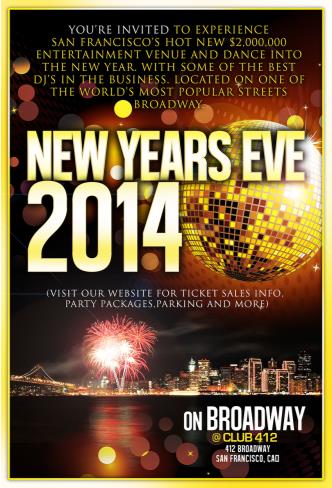 Venue:
When:
City:
Address:
6 Person VIP Table: $595.00
4 Person VIP Table: $495.00
4 Person Champagne Table: $295.00
2 Person General Admission: $50.00
VIP: $40.00
General Admission: $30.00
NYE at Club 412 On Broadway San Francisco,NYE on Broadway, New Years party at Club 412, NYE San Francisco, NYE USA
San Francisco's hot new $2,000,000 entertainment venue.
Located on one of the worlds most popular streets.
Celebrate NYE with your closest friends and some of the best DJs in the Bay Area.
PLUSH VIP SEATING | PRIVATE ROOMS | 2 LEVELS
FREE PARTY FAVORS | FREE CHAMPAGNE TOAST | HUGE BALLON DROP | CONFETTI CANNONS
DOORS OPEN @ 9:00PM- 2:00PM
412 BROADWAY ST. | SAN FRANCISCO, CA