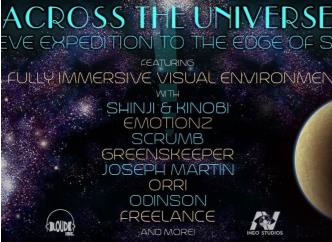 Venue:
When:
City:
Address:
Sugar Studios
Tue Dec 31 2013 1000PM
Vancouver
1635 Powell Street
Regular: $45.00
www.facebook.com/events/397190137080212
Tuesday, December 31, 2013 10:00pm until 6:00am
Loud Inc. & INEO Studios Presents
Across the Universe – A New Years Eve Expedition to the Edge of Space and Time (Fully Immersive Audio Visual Environment)
Another year has passed, and Earth is at its dawn of a new age.

To celebrate this forefront of humanity, we'll be taking you on a ride from the beautiful trees of BC, the amazing natural landscapes of our Earth to the outer regions of this solar system and beyond.
The Night Will Be Featuring:
(ROOM 1)
9:00 – 10:30 SHINJI & KINOBI
https://soundcloud.com/keyz-shinji
https://soundcloud.com/kinobi-lkc
10:30 – 11:30 EMOTIONZ
https://soundcloud.com/emotionz
11:30 – 12:30 SCRUMB
https://soundcloud.com/scrumb
12:30 – 1:30 GREENSKEEPER
https://soundcloud.com/greenskeeper
1:30 – 3:00 JOSEPH MARTIN
https://soundcloud.com/joseph_martin
3:00 – 4:00 ODINSON
https://soundcloud.com/odinsonofficial
4:00 – 5:00 LOWMANCE
https://soundcloud.com/lowmance
5:00 – 6:00 ORRI
https://soundcloud.com/djorri
(ROOM 2)
9:30 – 11:00 ODINSON
https://soundcloud.com/odinsonofficial
11:00 – 12:00 GOOFIO
https://www.facebook.com/pages/DJ-Goofio/302165624608
12:00 – 1:00 VINCE FARAH
http://m.soundcloud.com/vf604
1:00 – 2:00 DJiT
http://dj.beatport.com/djit
2:00 – 3:00 ALLYA
http://dj.beatport.com/allyamakesmusic
This New Years Eve will be one to remember as the party atmosphere that took you to the depths of space and time, a place where the senses are heightened by the immense beauty on both an auditory and visual spectrum. Featuring only the best in sights and sounds, our stellar lineup of artists combined with a fully immerse visual environment is gonna be THE NEW YEARS EVE you don't wanna miss! Hop on the shuttle, strap in, its gonna be one crazy ride!!
This year we've been working incredibly hard to bring you something not only unique – but affordable. We all know how expensive NYE can be and what better than an intimate place to enjoy the presence of one another and not feel like you've burned a hole in your pocket.
The party will be a THREE ROOM party – equipped with a massive dance floor, 2 lounge areas – one of which as a dedicated Bar area with it's own DJ and unique feel- This way nobody has to wait in line for their drinks and everyone's spending more time having fun.
On that note: we'll be bringing in 2 extra port-a-potties that will be outside for the men – Ladies – the 2 inside will be all yours.
Tickets for this event will sell out INCREDIBLY fast! Don't wait – our online ticket link will be up very soon or you can contact any of the hosts directly.
There won't be a VIP section – as every one of the 300 attendees will be the most important people in our lives – Every section will be special!
Tickets/Tiers
Tier 1 (early bird) x50 tickets @ $35 (First come first serve)
Tier 2 x150 tickets @ $45
Tier 3 x100 $55
Drink prices will be as low as we can legally make them!
(eg. roughly $10 x3 highballs, $10 x 2 beer/wine)
Fully Immersive Visual Environment presented by INEO Studios:
Surrounding the main stage and dance floor, you'll be encompassed by projection mapped visuals, lights, and lasers!
In addition to the amazing setup we have some of the very best in local and a few special guest DJs joining our roster to set stage for the night. Everything from Hip hop, Electronic, Deep house & future bass – The same sound you would expect from every Loud Inc. or INEO Studios party.
This party will also be host to an after party as well- starting at 3am – We're keeping our doors open (but removing the alcohol) until 6am – We're happy to say that aside from Gorg-o-mish we're the the latest running party on NYE!
As everyone is aware – we don't miss a single detail when it comes to adding to the experience of everyone joining us.
Be prepared for a night to remember!