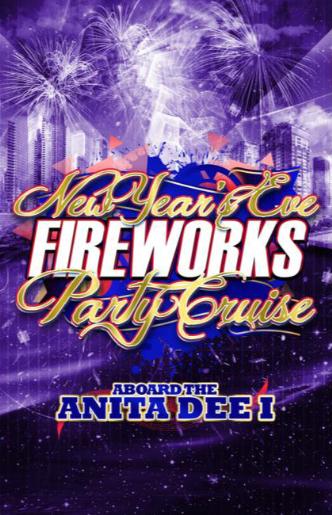 Venue:
When:
City:
Address:
Tue Dec 31 2013 930PM
Chicago
Navy Pier, 600 East Grand Avenue
Chicago. Most of us know it as The Windy City, Chi-Town, or Second City. But did you know Chicago boasts a vast menu of other cool, strange, and beautiful nicknames? Well guess what? Chicago is also crowned The Jewel of the Midwest. And a jewel she certainly is, motherland to the beautiful Anita Dee I Yacht. In fact, forget jewels. Anita Dee I is the essence of wealth in terms of beauty and entertainment, providing elegant fun that will transform into lush, golden memories.This New Years Eve, join us and get wild with a fireworks party aboard the Anita Dee I Yacht. Fireworks blasting apart in the sky like molten confetti. Can you see it? Fiery sprays of purples and greens spreading across a sky of black. And whats even better than mind-tripping rainbow explosions as you sail on a yacht? How about the yachts fantastic embellishments that push this aquatic journey into a realm of pure ecstasy? A live DJ to amp you up with the hottest beats to complement this smoldering, firework-filled holiday. And hey folks, dont forget the open bar where you can lose yourself in battalions of drinks until you become someone else completely, going buck wild as crazy musical energy makes your body pulse to the beat. With window-lined walls, Anita Dee I offers fantastic panoramic views of Chicagos golden city skyline, and, of course, a surrounding lake of majestic blue.
Boarding: 9:30pm
Departing: 10:00pm
Returning: 1:00am
General Admission
Admission for one aboard the Anita Dee I Yacht
3 Hours of Open Bar (10:00pm-1:00am)
Festive NYE Party Favors
Dance the Night Away to Sounds of a World Renowned DJ
Last Updated on