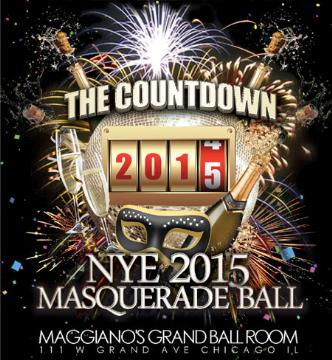 Maggiano's Grand Ballroom
Chicago
111 W Grand Ave
Gold Package: $1200.00
Individual- General Admission: $120.00
Premium Package: $2000.00
Silver Package: $800.00
VIP Admission: $140.00
NYE @ Maggianos Grand Ballroom
Bring in the New Year at Chicago's Premier NYE Celebration at the Third Annual Countdown Masquerade Ball. This year features 15 of Chicago's Top Djs, 1 Band, Two Rooms of Music, and free Masquerade Masks for all guests. Doors open at 8pm and the event sells out every year, so make sure to purchase your tickets ASAP.
Individual Tickets
Call and Premium Liquor Menu, Appetizer Buffet and complimentary Masquerade Mask.
VIP Tickets
Ultra Premium Liquor Menu, Premium Champagne Toast, Access to "Rubesco Room" Signature Cocktail Lounge, Cookie Creation Station, Premium Masquerade Mask and Complimentary Maggianos Gift Card.
Bottle Service
$2,000 Premium Package Includes: 10 VIP Tickets, 10+ Bottles of Premium Liquor (Grey Goose, Patron, Jameson etc), 3 Bottles of Champagne (Veuve)
$1,200 Gold Package Includes: 6 VIP Tickets, 5 Bottles of Premium Liquor (Grey Goose, Patron, Jameson etc), 1 Bottle of Champagne (Veuve)
$800 Silver Package Includes: 4 VIP Tickets, 2 Bottles of Premium Liquor (Grey Goose, Patron, Jameson etc), 1 Bottle of Champagne (Veuve)
Last Updated on